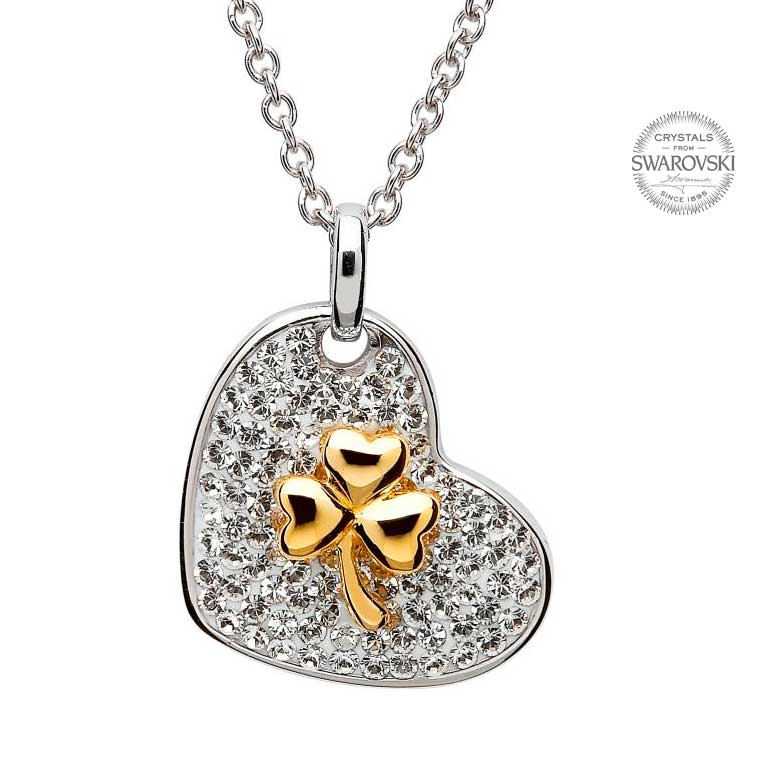 SW15 Gold Plated Shamrock Necklace Encrusted With Swarovski Crystals by Shanore
Description
This charming two-toned pendant necklace is just the accessory needed to show off your Irish roots in a fashionable way. A sterling silver heart is encrusted with sparkling crystals from Swarovski®, and a gold plated shamrock takes center stage mounted in the middle of the heart. 
Symbolic Shamrock
Few things are associated with a country as strongly as the shamrock is to Ireland. As tradition goes, the use of the shamrock for symbolic purposes dates back to St. Patrick, and his mission to deliver Christianity to the people of the Emerald Isle. It is said that St. Patrick used the common shamrock, a clover found all over the Irish landscape, to illustrate that God the Father, The Son, and The Holy Spirit all exist within one being like the leaves of the shamrock. Today it is known throughout the world as a symbol of Ireland.
Everyday Beauty
This pendant makes a great statement necklace that can be worn on a daily basis, as the silver and gold combination goes perfectly with any style or occasion. Consider wearing it with strapless dress to create a statement all your own.
Specification
MAIN STONE:

 
Swarovski White Crystals
MAIN STONE DIMENSIONS:

 
1.5mm
CHAIN:

 
18" Sterling Silver Belcher, Bolt Ring Catch