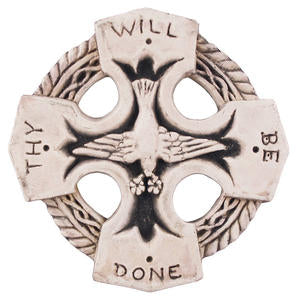 St Kevin's Cross
St Kevin's Cross.
St. Kevin's Cross is named after the founder of the Glendalough Monastery in (Glendalough Valley of the Two Lakes) Ireland.  The Dove is the manifestation of the Holy Spirit descending from God to peoples hearts, encircled by Thy Will Be Done – accepting God's will in our life.  St. Kevin would often visit Glendalough alone to meditate, eating only "nuts of the wood and plants of the ground and pure water to drink."  After word of his piety spread, many disciples came to Glendalough, contrary to the saint's hope for seclusion. 
Glendalough was a place of religious pilgrimage for centuries following its establishment as a monastic center by St. Kevin in the 6th century.  By the 12th century it was an important diocese.  But Viking raids from the 9th century onward did Glendalough much damage, and after a great fire in 1398, it declined as a religious center.  Today Glendalough lies within Glendalough Forest Park and is open to visitors throughout the year.
McHarp products are made of clay/ceramic. All McHarp artwork and crosses are hand-crafted and inspired by designs from antiquity. Each piece, based on an actual artifact or standing stone in the Celtic world, is accompanied by a tag in which the time period and culture are described.
Co. Wicklow, Ireland
5" x 5"
Due to the hand casting and proprietary staining process, each of my plaques is unique. Each cross comes with a hanger embedded in the stone. The cross comes with a descriptive tag describing the original stone, explanation of the design or information on where the cross is located.
Handmade products – Images may vary slightly from actual products.