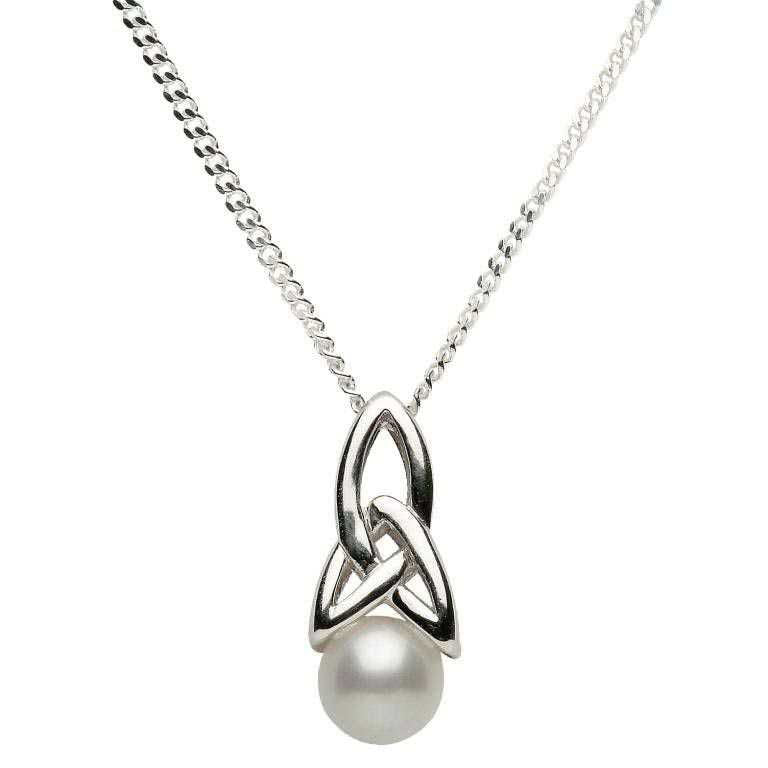 SPCP1 Celtic Silver Pearl Necklace by Shanore
Description
In this pendant, ShanOre artists have brought together two hallmarks of integrity and spirituality: the pearl and the Trinity knot. It seems fitting that the oldest known gem should be paired with an emblem of timelessness. The sterling silver braids of the knot appear to clasp the pearl with a gentle magnetism, and the white tones of both natural elements create a look of purity.
The Legend of the Trinity Knot
In non-Christian lore, the three corners of the Triquetra shape originally epitomized the three attributes of a Goddess maiden, mother, and crone. Over time, the trifold meaning has evolved into earth, air, or water and life, death, and rebirth. To many Christian believers, the knot still pays tribute to the three dynamics of the Holy Trinity, the Father, Son, and Holy Spirit. In any case, the figure highlights the concepts of unity and equality.
Precious Pairings
The bewitching charm of this pendant gives insight into the wearer's own ethereal spirit. She is one who forever seeks a happy balance between self-knowledge and worldly discovery. Her family members and friends think she is a rare find, because she is both good and wise; while the pearl suggests the simplicity of her loveliness, the Trinity knot hints at her intellectual complexity. The bright, clean aesthetic of this pendant would embellish a tailored button-down shirt and jeans, elevate the dignity of a V-neck wrap dress, or add a mysterious touch to everyday business attire. Once the owner has enjoyed her pendant for a while, she might decide to upgrade her style with ShanOre's matching pearl and sterling silver earrings and ring.
Specification
MAIN STONE DIMENSIONS:

 
6mm
CHAIN:

 
18" Sterling Silver Belcher, Bolt Ring Catch