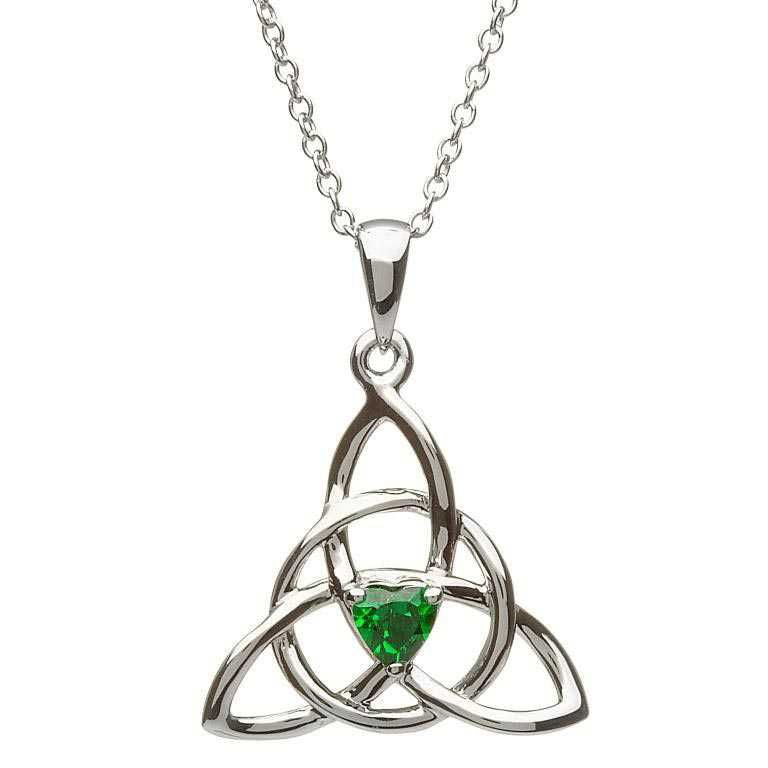 SP2055 Celtic Trinity Green Stone Set Necklace
Description
Composed of sterling silver and a delicate heart-shape stone, this pendant combines modern style with Irish tradition. Handcrafted silver intricately weaves the classic Celtic Knot, which dangles from a thin chain. Between each loop of knot winds a single silver hoop, interlinking the trio. 
The Heart of the Isle
The pendant was designed around the Emerald Isles. The green heart stone reflects the clover and wild grass that flows along the hills of Ireland. The carefully chosen stone is cradled by the Trinity Knot. This historic emblem represents the past, present and future that surrounds the Island. The trio is bound by a single silver hoop, which weaves between the three and holds them tight together. 
A Entrancing Addition
This unique piece is a perfect piece for any woman that appreciates Celtic tradition and modern style. Whether worn while wandering through the town, or at a black-tie event, this necklace can be paired with any  wardrobe. This necklace is beautiful when matched with a pencil skirt and Irish-green silk shirt. 
Specification
MAIN STONE DIMENSIONS:

 
4mm x 4mm
CHAIN:

 
18" Sterling Silver Belcher, Bolt Ring Catch