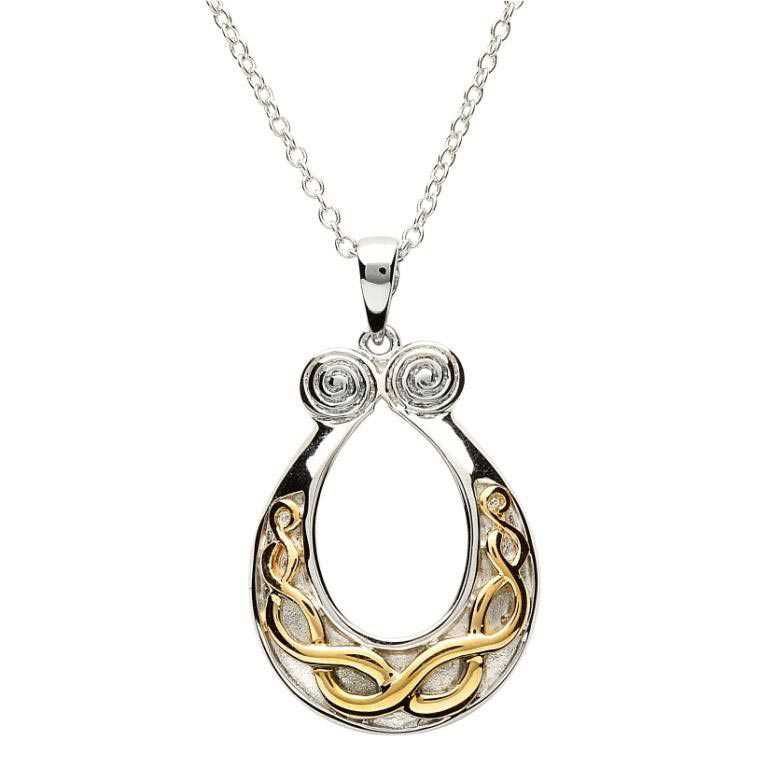 SP1087 Silver Celtic Knot Gold Plate Necklace
Description
This fun and charming pendant would be a real boon to any collector of clever, engaging gifts. Carefully crafted of sterling silver, this lovely necklace is reminiscent of a horse shoe- hung upright on your neck for good luck. The gentle upward sweep of the parabola does not end with an open space- like the horse shoe- rather each end is bedecked with a cute little spiral. The body of the pendant itself is bedecked with a beautiful, gold plated, twisting Celtic knot. This line of gold spirals and twists almost up to the spirals adding a delightful sense of movement to the entire necklace. 
An Ancient Tradition 
Though knot work is featured in many different cultures, it is most famous in the Irish tradition where the intricate knotwork was featured in their stone carving, tapestries, clothing, and crests. 
A Delightful Addition 
The complexity of this necklace makes it incredibly versetile- able to be be paired with focus on either the silver or the gold. But this same complexity means that a simpler neckline and pattern on the shirt is needed to not overwhelm the beauty of the piece. 
Specification
CHAIN:

 
18" Sterling Silver Belcher, Bolt Ring Catch