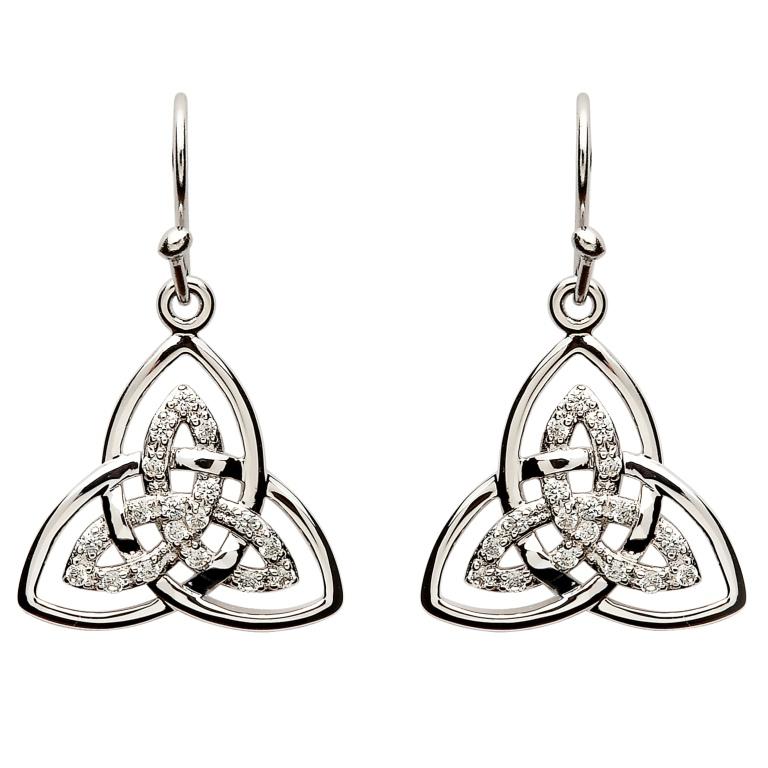 SE2113CZ Stone Set Trinity Knot Earrings by Shanore
Description
The multiple layers of these Stone Set Trinity Knot Earrings are reminiscent of the intricate knotwork Celtic design is famous for. Crafted out of sterling silver, they feature two remarkable Trinity knots, with the interior knot made dazzling with cubic zirconia.
Celtic Design
Celtic knotwork includes a mesmerizing display of cords or linework that is woven together so precisely that the eye is unable to determine where it begins- because there is no definite start or end point. The Trinity knot is one of the most famous of the different Celtic knot designs. The three intersecting pieces have been used to represent many things, with it's namesake being the Holy Trinity in the Christian Faith, despite the design going back for centuries before the faith was spread to Ireland. It was used to describe the relationship between the Father, Son and Holy Spirit, demonstrating that they are separate, yet also a single entity.  
Stylish Accessory
The ancient knot design, made modern with the sparkling cubic zirconia, make these Stone Set Trinity Knot Earrings the perfect stylish accessory to take you from day to night, no matter where your schedule takes you.
Specification
MAIN STONE:

 
Cubic Zirconia
MAIN STONE DIMENSIONS:

 
1.25mm