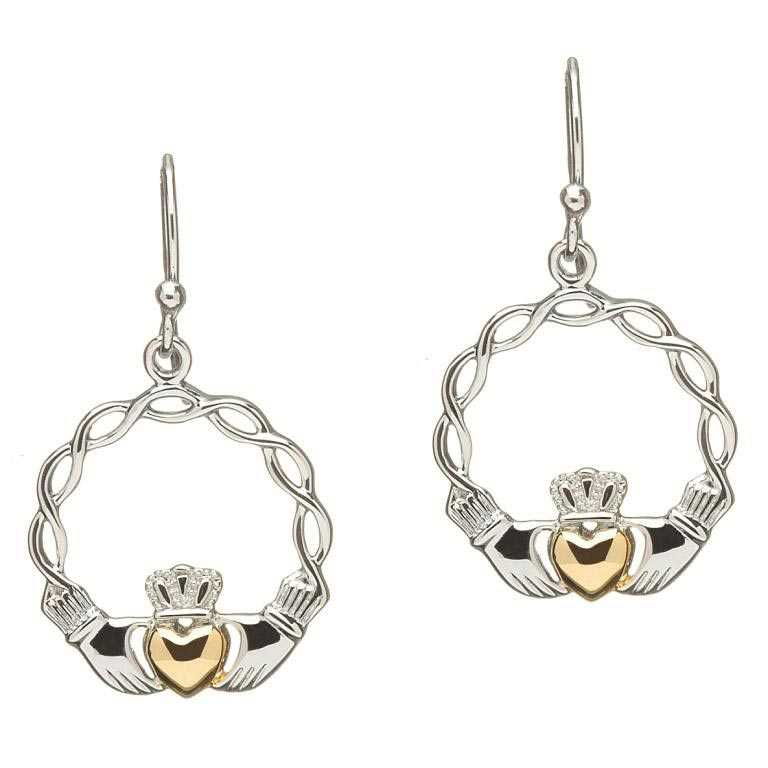 SE2046 Celtic Wave Claddagh Earrings with 14K Gold Plated Heart
Description
These gorgeous Celtic wave Claddagh earrings boast a 14 karat gold plated heart on each side. The intricately designed sterling silver is shown here in loops leading up to delicate hands holding a gold heart. Adorning the heart is the famous crown, completely the classic Claddagh design. The stark contrast of gold and silver make for a unique pair of earrings. 
Symbolic Decorations
Celtic culture is famous for it iconic symbols to represent love and commitment. Symbols like the Claddagh have stood the test of time due their uniquely human aspects. The Claddagh represents love though the gold plated heart, friendship through the supportive hands and loyalty through the ornament of the crown. The balance of these three aspects is central to leading a Celtic lifestyle. 
Artisan Quality
Each jewelry piece produced by Shanore is shown considerable love and care. The hands, heart and crown of these earrings shows the intricate attention given to each design. With the knowledge that the set was made by human hands, you can be assured of its outstanding and unmatched quality. Perfect for a night on the town or a night at home, this earring set is sure to be a new favorite.
Specification