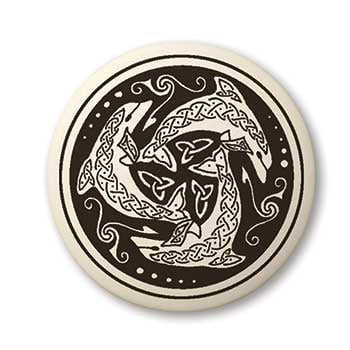 Nehalennia Porcelain Pendant
Protector of Travelers.
Nehalennia, the steerswoman, is the Celtic goddess who protects travelers during their life, but also on their journey through the afterlife. She is represented by dolphins, who protect seafarers, and dogs and ravens who protect land travelers. Along the coast of ancient Celtic settlements are standing stones carved with stylized dolphins, tributes to Nehalennia. As the goddess of guardianship, she symbolizes prosperity and the abundance of the earth.
Each design is fired into the clay at 2200°F, producing remarkable clarity and ceramic-hard durability that will not peel or wear off. Each is surprisingly lightweight, finished to a satin touch and comfortable to wear.
Pendant Features
Round shaped pieces are approximately 1" in diameter
Oval shaped pieces are

approximately 1

" by 1-1/2"
Octagon shaped pieces are

approximately 1

-1/8" across
All pendants are on a 32 inch braided rayon cord.
Designed in Scotland, Canada and the USA
Made in Michigan