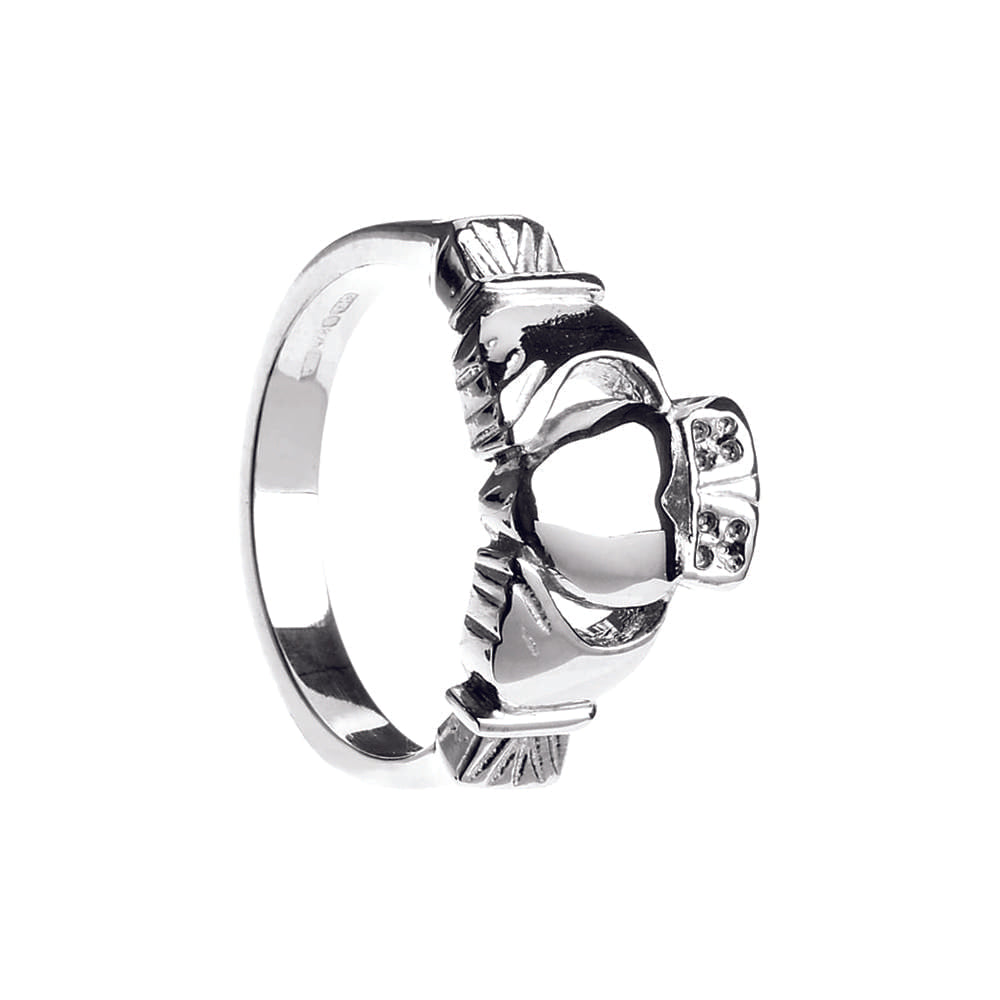 Heavy Weight Claddagh Ring For Men by Boru Jewelry
This Claddagh is a big one, it's heavy, and ideal for Men.
Rich in both culture and history, the Irish Claddagh rings meaning and significance has a colorful ancient past dating back over 300 years. With its roots deeply in Irish traditions, the design of the Claddagh ring may have over the years been subjected to variations but its meaning and significance and how it is worn is have been retained.
The story of the Claddagh ring is one of love. A Galway fisherman, Robert Joyce, kidnapped and forced to labour as a metalsmith, sought a way to remember his love, the woman he wanted to marry, Margret.
Years later, Robert escaped and after various trials landed in Galway but would Margret wait for him? She did. He offered her the ring and his eternal love. They married.
The area known as The Claddagh is located in Galway city, Ireland, near the Spanish Arch. It is where the river Corrib joins with Galway bay and used to be a common meeting place for fishermen and merchants.
The meaning of the Claddagh ring is signified in its design of hands, heart and crown. The hands of the ring holding the heart, denotes friendship and togetherness, whereas the heart signifies love and the crown atop the heart stands for loyalty.
Simply put the Claddagh ring is to Let Love and Friendship Reign Forever, which is why Claddagh Wedding Bands are becoming increasing popular and why Irish Claddagh rings an ideal choice for wedding rings, engagement rings and for other special occasion and anniversary jewelry.
Claddagh rings are worn as friendship, engagement or wedding rings depending on how they are worn. 
Friendship: by placing the ring anywhere on your right hand.
Engagement: by placing the ring on the third finger of your left hand with the heart pointing outwards. 
Wedding: by placing the ring on the third finger of your left hand with the heart pointing inwards towards your heart.
This product is handmade to order. Delivery usually takes 10 working days; however, Sterling Silver items may ship within 24 hours. Please specify when ordering if you require by a certain date. This product is individually packaged in a luxurious 2 piece presentation box.
*Returns and exchanges: Rings can be returned or exchanged within a 7 day period from when the ring(s) are delivered. We do not accept returns after the 7 day period has expired.
Height:  11.4mm 
Finish:  Polished
Handmade in Dublin, Ireland.
Hallmarked by Dublin Castle Assay Office.
Code: CLAD35