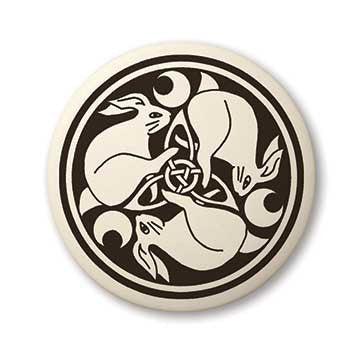 Hare Porcelain Pendant
Good Fortune, Rebirth.
The hare is considered an intermediary between mortals and deities, a messenger of the gods, but also a trickster with powers to effect transformation and control destiny. Its erratic movements foretell future events and as a lunar animal, it represents rebirth, immortality, good fortune and prosperity. The hare is the totem animal of numerous moon goddesses, most notably Eostre (the Anglo-Saxon goddess of spring) whose name is the source of the word Easter.
Each design is fired into the clay at 2200°F, producing remarkable clarity and ceramic-hard durability that will not peel or wear off. Each is surprisingly lightweight, finished to a satin touch and comfortable to wear.
Pendant Features
Round shaped pieces are approximately 1" in diameter
Oval shaped pieces are

approximately 1

" by 1-1/2"
Octagon shaped pieces are

approximately 1

-1/8" across
All pendants are on a 32 inch braided rayon cord.
Designed in Scotland, Canada and the USA
Made in Michigan