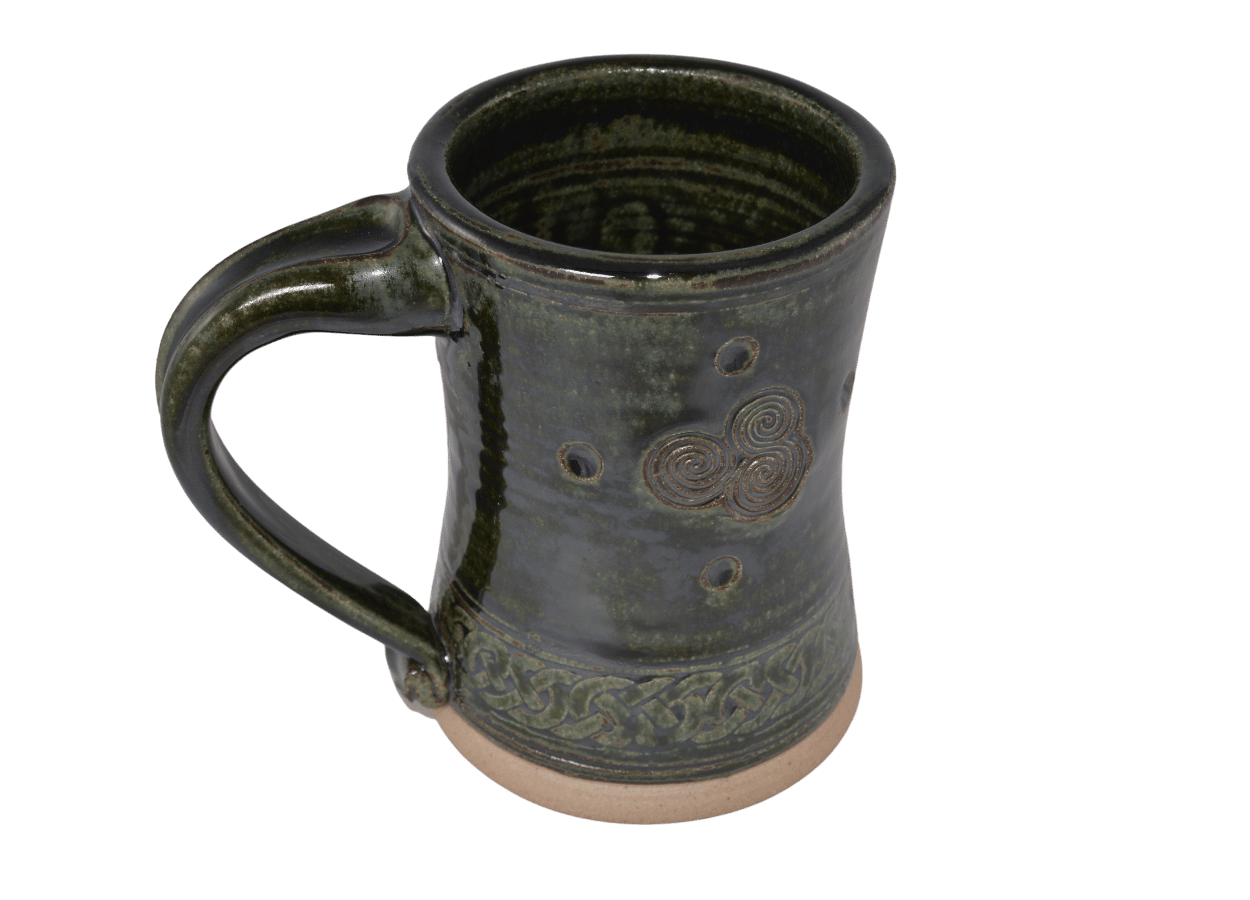 Hand Made Irish Pottery Celtic Knotwork Beer Steins
Save

Liquid error (snippets/product-badge line 33): Computation results in '-Infinity'

%
Hand Made Irish Pottery Celtic Knotwork Beer Steins.
A traditionally shaped beer stein with a 'pulled handle'. A pleasure to hold and the capacity for a generous pour of your favorite beverage. The beer steins have the Triskele design as well as a Celtic knot border around the bottom.
About Celtic Clays
Celtic Clays is a small pottery studio based just outside the village of Omeath, County Louth, Ireland. They produce for us a select range of pottery, embossed with Celtic knots, and other Celtic designs that is both highly functional and decorative.
Product Features
Hand made in Ireland
Available in 4 colors - Blue, Green, Purple or Yellow. See unique color descriptions below
Dishwasher and microwave safe. Fired at over 2400 degrees makes the pottery impervious to water
Capacity for approximately 800 ml or 26 fl oz
Measures approximately 14 cm or 5 1/2 " in height
These steins make the perfect gift
They are an expression of Ireland through clay
Colors

Sliabh Foy Green. A dark mysterious green reflecting the patchwork of trees and fields that make up the omnipresent Carlingford mountain.
Loch Blue. A rich ultramarine blue with hints of aqua green reflecting the tidal waters of Carlingford lough.
Cooley Summer Yellow. A soft earthy yellow with hints of 'hazy' blue reflecting the barley fields surrounding Whitestown and Shelling hill during the summer months.
Corcra Chait. A complex array of purple, red and lavender hues that are found in the heathers that festoon the Omeath mountains especially in an area known as 'The Long Woman's Grave'. Consequently, this 'Long Woman' was called Kathleen (Cait in Irish) and the word for purple in Irish is Corcra!
Symbols
The Triskele 

is a 

symbol that consists of three interlocked spirals

. It is one of the oldest Irish Celtic symbols in existence, and is best known to represent the three worlds; the celestial, physical, and spiritual.

Celtic Knotwork with no beginning and no end represents the Celts belief of the cycle of life with no beginning and no end.
Now The Chemistry
All the glazes are made from scratch with a specific recipe for each one. Using flint, whiting, clay, feldspars and oxides they are formulated to 'react' with the flames themselves in the gas fired kiln. Controlling the firing at certain times creates the 'right' atmosphere inside the kiln where the 'burnt' gas reacts with the glazes. This type of firing is known as 'reduction' firing. It is the interaction between heat, gases and glaze materials that make Celtic Clays unique. In truth you will never get two identical pieces. Therein lies the beauty!
Due to the hand made nature of these items the colors and sizes will vary slightly from product to product. That is the unique nature of something being hand made.