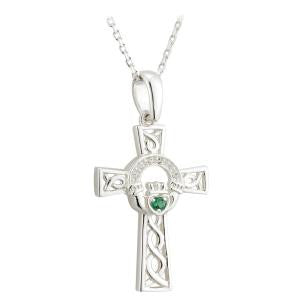 Silver Claddagh Cross Pendant
Silver Claddagh Cross Pendant.
This Celtic Cross features the iconic Claddagh at the centre with its symbols signifying love (heart), friendship (hands) and loyalty (crown). The Celtic Cross is the stuff of Irish legends, with each piece telling a different story. All remain a powerful symbol of faith and Irish heritage. There is an emerald in the centre of this sterling silver pendant. This sterling silver Claddagh pendant has been Irish hallmarked in Dublin Castle.
Height (Inches)
1.14
Height (mm)
29
Width (Inches)
0.75
Width (mm)
19
Total Weight (g)
3.7