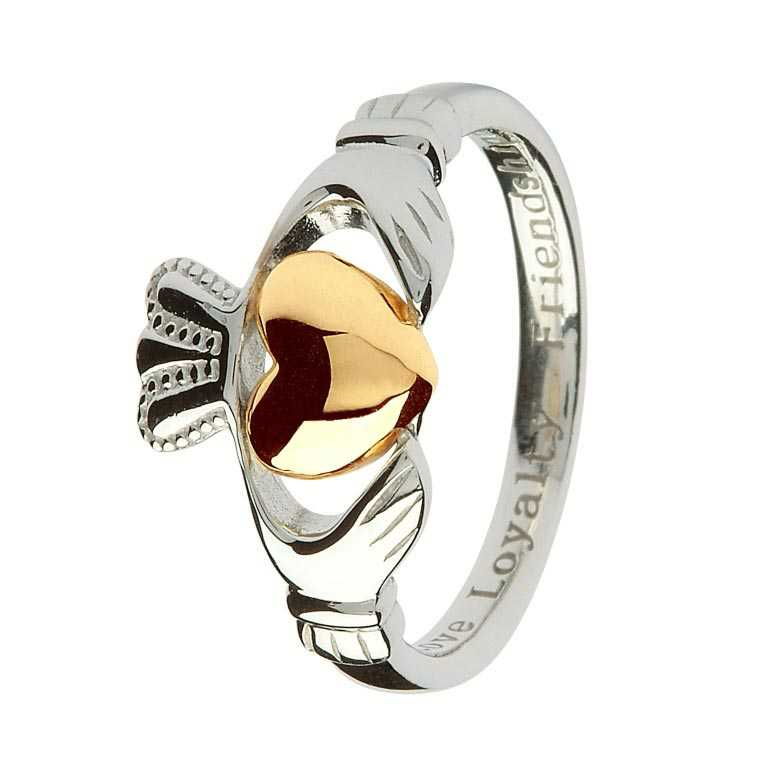 Claddagh Sterling Silver Ring with Real 10K Gold Heart by Shanore
Description
Sterling Sliver hands carefully clasp a 10 karat gold heart in this sophisticated rendition of the Claddagh. Exquisitely detailed, the ring contains the three components of the famous Irish symbol with a polished grace. Gleaming silver hands encircle the pool of flawless gold, each finger intricately etched into the silver. The crown of loyalty arches beautifully on top of the two. The inner ring engraved with the three words that encompass the Claddagh: Love, Loyalty, and friendship.

Love. Loyalty. Friendship. The three vital components for an enduring love are encased in this centuries-old Irish emblem. A pure 10 Karat gold heart floats at the center, symbolizing the precious love offered up in a relationship. Silver hands protectively hold the heart, in a sign of friendship, trust and acceptance. Finally, a classical crown binds the two in loyalty, pledging a dedication to the shared life and love. The Claddagh symbol has survived for decades as the symbol of the best love has to offer.
Specification
METAL:

 
Sterling Silver and 10kt Gold
About Shanore
Owned and operated by the same family since 1979, Shanore crafts the finest pieces of Irish and Celtic jewelry right in Dublin. Creators of the well loved Tara's Diary collection of charms, beads, bracelets, and necklaces you may know them already. If not, it'll be impossible to forget them beginning the moment you receive your first Shanore piece.