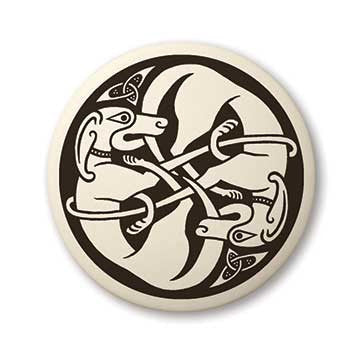 Celtic Dog Porcelain Pendant
Loyalty, Companionship.
To the Celtic peoples, dogs have often symbolized the strong bond of companionship and loyalty between human and animal. The Celtic goddess to protect travelers, Nehalennia, is often depicted with dogs at her side. Dogs figured prominently in Celtic artwork, especially within the Books of Kells, Durrow, and Lindisfarne. Fiercely protective of their human families, the barking of a faithful dog can be a first alert to danger or concern.
Each design is fired into the clay at 2200°F, producing remarkable clarity and ceramic-hard durability that will not peel or wear off. Each is surprisingly lightweight, finished to a satin touch and comfortable to wear.
Pendant Features
Round shaped pieces are approximately 1" in diameter
Oval shaped pieces are

approximately 1"

 by 1-1/2"
Octagon shaped pieces are

approximately 1-

1/8" across
All pendants are on a 32 inch braided rayon cord.
Designed in Scotland, Canada and the USA
Made in Michigan