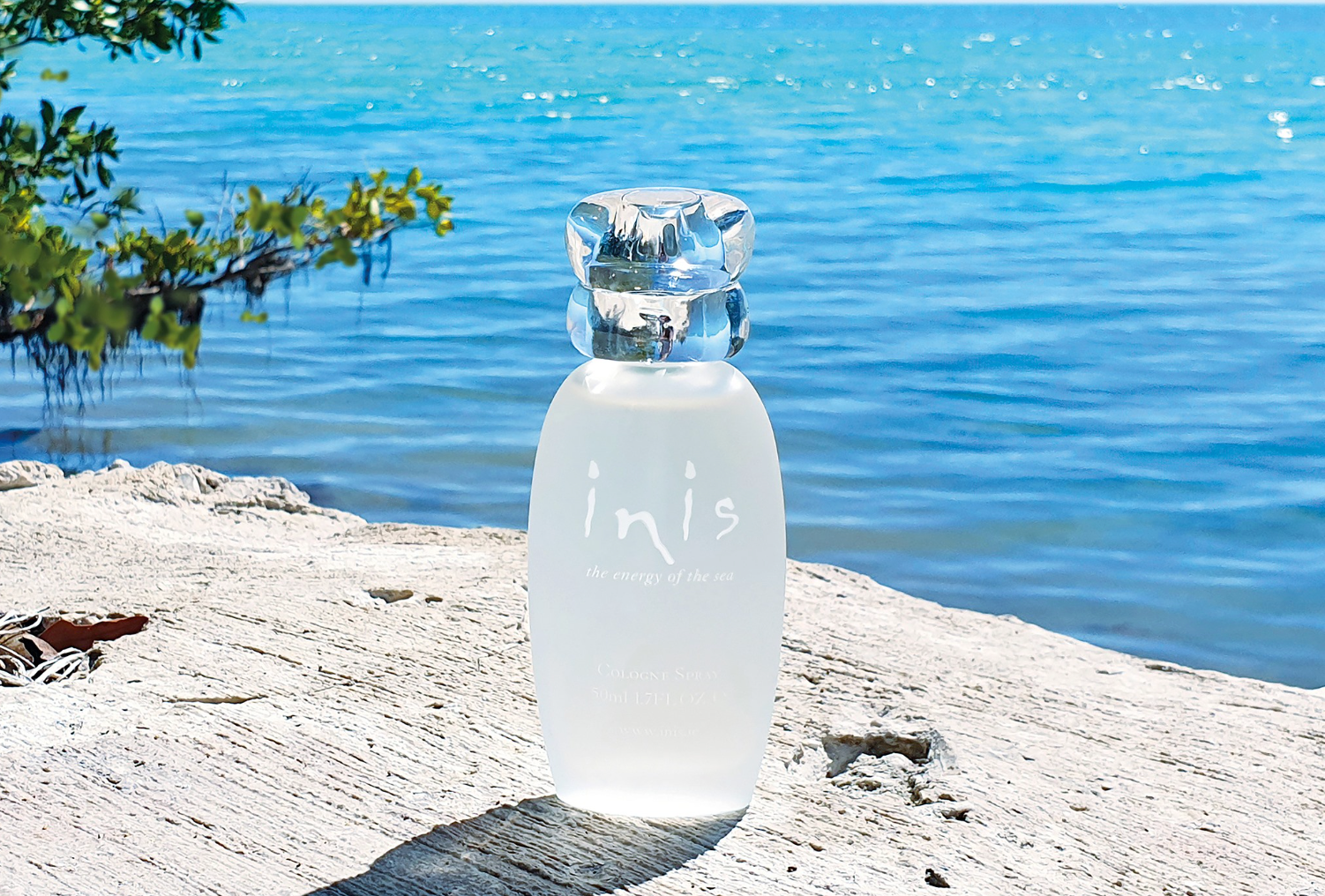 How Inis captured a summer's day by the sea, and the hearts of customers globally
Banner photo by Fragrances Of Ireland
Celebrating its 25th anniversary for Fragrances of Ireland in 2023, Inis remains a firm favorite for customers all over the world. Why is it that buyers keep coming back for Ireland's most recognizable scent?
There's a famous old joke that Irish people sometimes tell visitors to Ireland. "If you don't like the weather here, stick around for 20 minutes!" The old chestnut about the Inuits having several dozen words for snow has become disputed in recent years, but there's no doubt that Irish people and the weather go hand-in-hand. Don't be surprised to meet a successful Irish startup founder, intent on building the next billion-dollar company, and find that the first topic of conversation is what's coming out of the sky.
It should be no surprise, then, that "Energy of the Sea" has long been the strapline for one of Ireland's most iconic fragrance products, Inis, by the County Wicklow-based company Fragrances of Ireland. With less than 200 miles separating the Atlantic coast to the Irish Sea, Ireland is dominated as much as anything by the energy that comes off the oceans.
As David Cox, CEO of Fragrances of Ireland, says:
"Ireland is full of energy. Clouds are always scudding across the sky. There's always a breeze."
And that was the inspiration behind Inis. "Walking by the beach, walking along the shore, is always a pleasure to do," says David. "We felt that the happiness of doing that was something we wanted to capture in a bottle."

The product that did so, which first arrived on the perfumery shelves in 1998, has become the flagship scent of Fragrances of Ireland. By capturing the happiness of a day by the sea, Inis has captured the hearts of customers all over the world and kept them coming back to replenish their stocks over and over again.
But how exactly did it do so? Let's revisit the story of Inis to see what we
can find out.
2. What You Can Expect From Inis
Photo by Fragrances Of Ireland

The Inis Story
David Cox has been the CEO of Fragrances of Ireland since before the launch of Inis. The company was founded by David's father and uncle, Brian and Donald Cox, who first gathered around a kitchen table in County Wicklow in the early 1980s to discuss the idea of leveling up Ireland's game in the fragrance scene.
The big vision for Fragrances of Ireland was, as David says in a short film titled "Story of Inis", to produce perfumes "that reflected the beauty and magic of Ireland".
The company's first major foray into the market was Innisfree, named for a beautiful lake in the west of Ireland that had been made world-famous by "The Lake Isle of Innisfree", one of the most renowned poems of WB Yeats, Ireland's Nobel Prize-winning poet of the early decades of the 20th century. Innisfree was a ladies' perfume, and it was followed in the 1990s by a men's scent, Patrick, named for Ireland's patron saint.
While both of those fragrances were successful in their own right—and remain part of Fragrances of Ireland's traditional collections—the big breakthrough for the company came following the launch of Inis in 1998.
The idea—truly in alignment with the company's vision of producing scents that reflected Ireland's magic and beauty—was to create a fragrance that called to mind a summer's day at the seaside.
As anyone who has ever created anything of note will no doubt agree, however, the idea is one thing; making it actually happen is another thing entirely. And there were a couple of stumbling blocks en route to bringing a perfume to market, starting with coming up with the scent in the first place. The iconic British perfumer Arthur Burnham had been given the brief, but some time after receiving it, he called up Fragrances of Ireland to admit that he had been unable to make much progress in the task of recreating in scent a summer's day by the sea.
The decision was made to go direct to source, and David and Arthur made the trip to Dog's Bay, a beautiful beach on the Atlantic coast of Connemara in western County Galway, and a place of great personal significance to David, who had spent several summer holidays there in his childhood. After some time spent strolling on the beach at Dog's Bay, no doubt sniffing the atmosphere as he went, the muse of creative inspiration struck for Arthur.
David recalls,
"As luck would have it, it was a beautiful day in the west of
Ireland, and having walked Arthur up and down the beach for a few hours,
he turned to me and said to me, 'I know what we're going to do!'"
Not long afterwards, Inis was born.
But how the market would react to this new scent was something nobody at Fragrances of Ireland could have expected, even in their wildest dreams.
Photo by Fragrances Of Ireland


What You Can Expect From Inis
One of most important things about Inis is that it's a unisex fragrance that seems to have wide appeal across the full spectrum of men and women. 
The vision for Inis, as referenced above, included the desire to make it seriously differentiated from many of the established fragrances on the market. 
Says David:
"We wanted to achieve that feeling, but we wanted to produce something that made people as happy as they are on their summer holidays by a beach. That was the important thing for us. This wasn't going to be a perfume that made you feel chic or sexy or anything that a lot of the continental European or British or American perfume houses do. There's plenty of people doing that, and that's not very Irish. The important thing about doing an Irish perfume is something that is much more friendly, much more universal, and in short something that would just make people happy." 
There are countless female reviewers online who admit they keep coming back for more of what Inis gives them, but there is no shortage of male fans too. Bottom Note, a YouTuber who regularly reviews male fragrances, is a fan. Elsewhere on YouTube, one male commenter shared his own experience of wearing Inis to work: "EVERY woman that got close asked what I was wearing and said that I smelled GREAT! Like I just got out of the shower. Fresh! Clean! Just what the doctor ordered! I really love this scent for summer! I'm a fan!" 
The core Inis product is a cologne, which for the scent-uninitiated out there is different from what is categorized as perfume or aftershave in a couple of key ways.
In terms of fragrances, there are five main categories, all relating to oil concentration: perfume (or parfum) generally has an oil concentrate of more than 20%, followed by eau de parfum (15-20%), eau to toilette (5-15%), eau de cologne (2-4%) and eau fraiche (less than 3% concentration). Therefore, it can be expected that Inis, as a cologne, would have a scent lasting approximately 2-4 hours, while stronger concentrations such as perfume might be expected to last 6 or more hours. 
As far as aftershave is concerned, there are some subtle but important differences. Cologne is exclusively a scent, whereas products classified specifically as aftershave could be expected to include some key elements, such as moisturizing or antibacterial properties, that would be seen as important for the skin after shaving. 
These days, however, Inis is a lot more than just a cologne. 
As can be expected from such a successful scent, the core product has long since been supplemented by a complete range of products which includes: 
Meanwhile, for those who wish to experience the scent of Inis around their home as well as on their skin, there are plenty of additional options:
Photo by Fragrances Of Ireland

What People Say About Inis
It's a suitably visionary statement to say you want to produce a fragrance that "smells like a summer's day by the sea".
So it must be an incredible experience for everyone at Fragrances of Ireland when review after review posted online spells out that customers' own personal experience has been exactly what the company set out to do all those years ago.
One reviewer, who lives on Ireland's west coast, commented on YouTube:
"[Inis is] 100% my forever favourite. I've worn it from the first time it hit the shelves ... I wore it on my wedding day, it reminds me of special times when my babies were small and instantly makes me feel at home and uplifted no matter where I am or what's going on. We live in Dingle on the beautiful Wild Atlantic Way and it's everything home is, wrapped up in a bottle ... I've gifted the travel packs to friends and lots of people compliment how fresh and happy a scent it is. Please Inis, never disappear and never change!"
Another reviewer, the aforementioned men's fragrance YouTuber Bottom Note, said:
"What I get from this is 'wateriness'. I mean, there's something that says 'watery'! I'm getting the oakmoss, it's a fresh scent [and] I definitely get the sea notes that they're speaking of. You're going to smell something that smells watery for some reason, and it's a salty watery, so they really were able to duplicate [the sea scent]. I don't like to say aquatic, because it's actually more of an oceanic marine vibe."
Hundreds of customers have also come to our RealIrish.com reviews site
to let us know how great they found the Inis products.
One wrote of the Inis Diffuser:
"We have just about everything Inis makes! The diffuser smells amazing! Just like everything else in the collection. A wonderful reminder of Ireland!!"
One wrote of the Inis Revitalizing Body Lotion:
"I absolutely love Inis scents. I get so many compliments when I wear them. I am going on a trip so I bought the travel size cologne and the small Inis lotion which is perfect so I wouldn't have to do without my favorite scent."
Other customers loved the Inis Cologne. One said:
"Love the scent of Inis. It's heavenly smooth... My favourite 💕"
Another said:
"You will love the scent! Pure fresh and clean! Ocean fresh scent year round! I have them everywhere! Great job Real Irish! Many thanks."
And yet another customer, who purchased the Inis scented candle, wrote:
"I love my Inis candle! I love all there products, Thank you for producing high quality items! Inis for life!"
Such consistently glowing—and maybe just as important, consistently on theme—feedback attests to the genius of perfumer Burnham in producing the scent in the first place, and the Fragrances of Ireland team in marketing it for two and a half decades.
As David Cox says of Inis,
"People wear it and it makes them feel happy. It cheers them up. It gives them a bit of summer zest in the middle of winter, or when they're on top of a mountain it makes them feel by the sea. That's exactly what we're trying to do. That's the whole point of a perfume, to transport you and uplift you."
Photo by Fragrances Of Ireland
The Inis Ocean Commitment
With all this talk of the ocean—in terms of both the tangible (Inis product ingredients including marine and seaweed extracts) and the intangible (the company's mission to transport Inis customers to memories of a summer's day at the seaside)—the people behind Inis have been careful to ensure they're doing more than their fair share for the oceans, too.
Since 2001, Inis has been the core funder of the Irish Whale and Dolphin Group (IWDG), a charitable organization which is "dedicated to the protection, conservation and better understanding of whales and dolphins in Irish waters and across the world".
Among the projects led by the IWDG and their funders is the Shannon Dolphin Project, based in the town of Kilrush on the Shannon estuary in County Clare only 50 miles across the Atlantic coast from where the Inis journey started at Dog's Bay in Connemara all those years ago. The research project found at least 145 dolphins living within the Shannon estuary, although the dolphins venture out to sea to the nearby bays of Brandon and Tralee. Inis's funding has supported the Project Officer position within the Shannon Dolphin Project.
As the IWDG stated,
"This support from Inis comes at a critical time for the Shannon dolphins and the estuary, which is coming under increasing pressure from industrial development. It is essential that the IWDG is able to engage with industry managers, agencies and local communities to ensure that the dolphins and their habitats are protected so they continue to swim in the Shannon estuary for years to come."
Inis is also the sponsor of the IWDG's annual All-Ireland Whale Watch event, which takes place at headlands around Ireland each summer and sees amateur enthusiasts join with experienced IWDG researchers to watch out for some of the 25 species of cetacean (whales, dolphins and porpoises) that make their home in the waters around Ireland.
"Without Our Customers, We Would Have Nothing"
From a hopeful afternoon walk on a beach on the west of Ireland quarter of a century ago, through countless happy customers, to supporting the vital work of marine organizations around Ireland, everyone involved in Inis has been on a remarkable journey.
Final word to David Cox, who says in the "Story of Inis" film:
"It's a matter of enormous pleasure and pride to see what it has achieved. We were aiming to have something which we would be proud of, and which would stand alongside anything that was produced over the whole world."

"What we've achieved has not been without a huge amount of effort by very many creative and hard-working people, and also all our wonderful customers all around the world, both the shops we deal with and the people who've fallen in love with Inis and keep buying it, without whom we would have nothing."

At Real Irish, we are proud to stock the full Inis line of scents, as well as other colognes and perfumes by Fragrances Of Ireland.