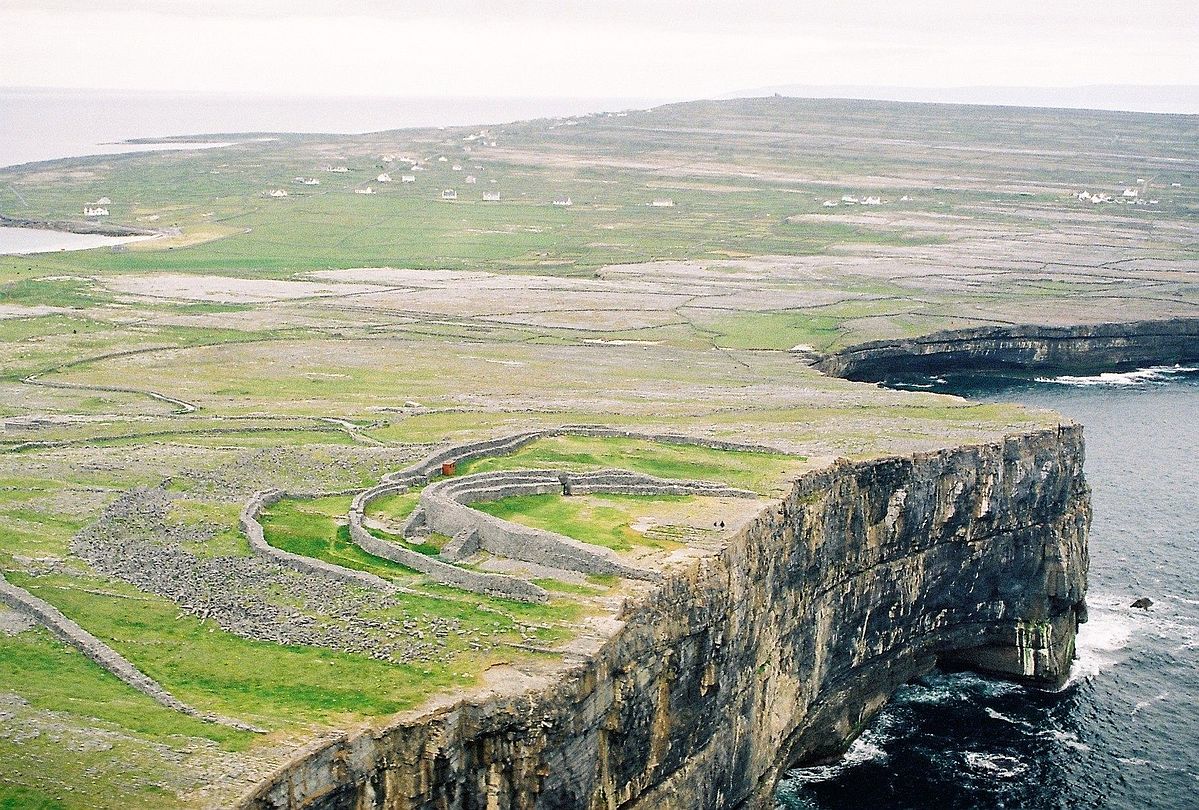 Star Wars, Murder Trials and Wallaby Colonies: Here's 20 of Ireland's Most Iconic and Awe-Inspiring Smaller Isles
Ireland is known all over the world for its lush greenery, world-famous castles and unbeatable hospitality. It is, to many people, the world's greatest island—and listen, we are not counting Australia, right!
But what about the islands around the island? 
Scattered throughout Ireland's 2000 or so miles of coastline are situated hundreds of smaller islands, many of them bringing their own traditions, history and culture.
Here are 20 of Ireland's islands, why they're notable, and what you might find if you're ever lucky enough to set foot on one of them.
Achill Island
Whether we start by size or by alphabet, first up is Achill. Located off the west coast of County Mayo, and connected to the mainland by the Michael Davitt Bridge since the late 1800s, Ireland's largest island is a popular destination for surfers, hikers, and beach-goers.
Population: 2,700
Notable landmark: Achill is home to the iconic Keem Bay, which was once voted one of the world's most beautiful beaches by readers of The Observer. Keem can be reached by a palm-sweating clifftop drive, and the secluded horseshoe-shaped beach features regularly in travel guides and postcards
Notable person: The artist Paul Henry, who is known for his depictions of the Irish landscape, spent many years living and working on Achill Island. 
Henry, who is regarded as Ireland's foremost impressionist, lived on Achill between 1910 and 1919 and his ability to capture light on canvas is said to have come from his experiences of the unique Atlantic coast weather. In 2021, two Henry paintings—assumed to be worthless prints by their owners—sold at a Ohio auction for $170,000 each.

Bere Island
A small, tranquil island off the coast of County Cork in the south of Ireland, Bere Island is steeped in maritime military history. During World War I, it served as a base for the British navy, and during World War II—despite the now independent Ireland's avowed position of neutrality—it was used as a lookout point for German U-boats.
Population: 217
Notable landmark: One of Bere's most notable landmarks is the Martello Tower, constructed by the British in the early 19th century as part of its defenses against French invasion during the Napoleonic Wars. Small and squat constructions, about 50 Martello Towers were built around the Irish coastline, with maybe the most famous being the tower at Sandycove in Dublin, which was a key setting in the novel Ulysses by James Joyce.
Notable person: Visual and performing artist Mary Sullivan has been based on Bere Island for more than three decades. Winner of the prestigious RDS Visual Arts Awards Taylor Art Award awarded to the artist judged to be the most promising emerging visual artist in a given year. 
Bull Island
Bull Island is effectively a man-made island, given that it was formed in the 19th century when a large sandbank was cut off from the mainland by the construction of a new seawall. These days it is connected to nearby Raheny in Dublin by a short road-bridge.
Population: 0
Notable landmark: The entire island is effectively a notable landmark, as it is a designated nature reserve and bird sanctuary, home to over 180 species of birds including sandpipers, gulls, and terns, as well as a variety of plant species, some of which are rare or endangered. As well as its natural appeal Bull Island is famous for a long sandy "blue flag" beach due—an award given by the European Union for water quality and high environmental standards.
Cape Clear Island
Located off the coast of County Cork, Cape Clear Island is a remote and rugged place with stunning scenery and abundant wildlife. Visitors can explore the island's ancient ruins, take a guided walk to spot rare birds, or simply relax and soak up the peaceful atmosphere.
Population: 147
Notable landmark: While not actually on Cape Clear, Fastnet Lighthouse is one of the most famous coastal landmarks in all of Ireland. Originally built in the early 1850s, in part as a response to the tragedy of the Stephen Whitney, an American packet ship, with the loss of 92 lives, the present-day Fastnet Lighthouse is a truly astonishing structure, hugging an ocean rock and standing 54 meters or 177 feet tall. The lighthouse is situated on Fastnet Rock, Ireland's most southerly point and approximately four miles southwest of Cape Clear Island. The lighthouse is the tallest in Ireland and its beam has long offered reassurance to seafarers imperiled by the notorious Atlantic weather and rock formations.

Clare Island
Located off the west coast of County Mayo, Clare Island is known for its stunning scenery and rich history. A picturesque island home to a vibrant community of artists, musicians, and writers, Clare Island also offers ancient ruins, walks for nature lovers and a general sense of peace away from the bustle of modern everyday living.
Population: 159
Notable landmark: St Brigid's Abbey is a medieval monastery founded in the 12th century. Founded originally by members of the Cistercian order, the abbey was used as a burial place for the O'Malley chieftains who governed this part of Ireland in late medieval times. 
Notable person: Speaking of the O'Malleys, few of that clan have been more legendary than the pirate queen herself, Grace O'Malley, who is believed to have been born on Clare Island in the 1500s. Known in the native language as Gráinne Mhaol, O'Malley was described by the historian Anne Chambers as "a fearless leader, by land and by sea, a political pragmatist and politician, a ruthless plunderer, a mercenary, a rebel, a shrewd and able negotiator, the protective matriarch of her family and tribe, a genuine inheritor of the Mother Goddess and Warrior Queen attributes of her remote ancestors. Above all else, she emerges as a woman who broke the mould and thereby played a unique role in history." Gráinne Mhaol—sometimes written as Granuaile—has inspired everything from song lyrics by Irish revolutionaries to Broadway musicals to Swedish death metal.


Dalkey Island
A short boat ride from Dublin, Dalkey Island is a peaceful oasis in the midst of bustling city life, just across a sliver of Dublin Bay from Dalkey and Killiney, which is the home of such Irish luminaries as Bono, Enya and Van Morrison.
Population: 0
Notable landmark: On a rocky outcrop that has been uninhabited—if you don't count the wild goats and roseate tern colony—for at least several hundred years and probably longer, it's perhaps no surprise that the Martello Tower (yes, another one) is the most recognizable feature. Those 19th century British governors certainly didn't spare any expense in creating its chain of security outposts to keep an eye out for boats full of pesky Frenchmen.
Notable person: St Begnet is the patron saint of Dalkey (including the island) and is reputed to have been there during the seventh or eighth centuries AD. A ruined church on the island is named after her. Or possibly him. (There is some doubt over his/her pronouns.) One history labelled Begnet as an "Irish princess" that was desired by suitors far and wide, but that she chose instead to withdraw from the secular world and pursue a life of prayer and seclusion. Wikipedia warns readers—wisely, we think—not to confuse St Begnet with the Begnait, which is also highly desirable but differs from the saint in that it is, in fact, a fried pastry. The Begnait does share some religious connotations, though. It's made from a type of pastry called "pets-de-nonne", translated from the French as "nun's puffs" or, more literally, "nun's farts".


Dursey Island
According to t'Internet, the island of Manhattan has a population of approximately 1.63 million people, all of whom live in an area of about 23 square miles. In other words, there are, give or take, 70,000 people per square mile in the center of NYC. Dursey is a little different. Four miles long and a mile wide, the County Cork island of Dursey has—at last official count, in the 2016 census—a grand total of four inhabitants, meaning each resident has one square mile to themselves.
Population: 4
Notable landmark: When it's operational, Dursey's famous cable car multiplies the number of people on the island on sunny summer's days. Opened in 1969, it is the only cable car in Europe to cross open seawater, and that fact—plus the truly exceptional views of the ocean and the coastline—sees length queues as locals and day-trippers alike make the journey across Dursey Sound. As of the spring of 2023, the cable car is closed for a major maintenance programme, with no confirmed date for its reopening as yet.
Garnish Island
A tiny uninhabited island, Garnish is perhaps unique among Irish islands due to its situation, nestled in one of County Cork's most famous bays.
Population: 0
Notable landmark: Well, the Martello T… okay, you've had quite enough of those for one day. Anyway, the tower is not even close to being the most noteworthy landmark on Garnish. That accolade goes to the Italian Garden, a spectacular formal garden filled with exotic plants and flowers. Partly due to its sheltered situation near the harbour of Glengarriff in Bantry Bay and the Gulf stream that brings warmer air across the Atlantic, Garnish has a micro-climate all of its own. This has allowed the unique gardens, established by the Bryce family and famed garden designer Harold Peto in the early 20th century, to flourish and attract flocks of tourists to visit by boat each summer.
Great Blasket Island
The Blasket Islands off the coast of Kerry in Ireland's south-west were inhabited until the 1950s, when the last residents were evacuated due to the declining population. Visitors today—who might get there via a speedboat adventure tour from nearby Dingle—can explore its abandoned villages and unique flora and fauna.
Population: 0
Notable landmark: The so-called Deserted Village on Great Blasket Island commemorates village life on the island before it was evacuated in 1954. Sited on a hilly slope at the island's eastern flank, at a point most sheltered from the unforgiving Atlantic weather, the village's buildings were grouped in clusters. The Irish Government's Office of Public Works bought most of the property on the island in 2009, including the Deserted Village, which can now be visited by boat tour during summer months.
Notable person: Peig Sayers (pronounced "Peg") was born on the Kerry mainland in 1873 and moved to Great Blasket in the early 1890s to marry a local fisherman and lived on Great Blasket for fifty years. Taken out of school at the age of 12 to work as a domestic servant, she nevertheless became noted for her writings, which were dictated to her son in Irish, the language of the Blaskets, as she could neither read nor write in the Irish language. Her book, Machnamh Seanamhná, or "An Old Woman's Reflections" and popularly known simply as Peig, has long been a staple of the Irish education curriculum, and even a thorn in the side of many a youth student who might not have seen the upside in learning the native language in a country where English has long been the dominant tongue. Indeed, Peig was not alone as a famous literary figure from the Blaskets. Her fellow islanders Tomás Ó Criomhthain and Muiris Ó Súilleabháin were also notable writers, with Ó Criomhthain's An tOileánach, or "The Islandman", quickly heralded as a classic after its publication in 1929.
Inishbofin
Located off the coast of Connemara, County Galway, Inishbofin is a tranquil retreat with stunning beaches and scenic walks. It is perhaps most notable 
Population: 170
Notable landmark: Built on Port Island, an outcrop in Inishbofin bay, a stronghold was originally said to have been built by a Spanish explorer/pirate named Alonzo "Don" Bosco. The impressive ruin that sits on the site today mostly dates from the time of Oliver Cromwell (it's called "Cromwell's Barracks") and is a throwback to a time when Inishbofin played a key role in British empire affairs: the island was a staging post and weapons repository for Irish Catholic rebels who were allied with the Royalists, or Cavaliers, who supported King Charles I of England. They came up against Cromwell and, like almost everyone else who did that, paid a heavy price. Cromwell and his Parliamentarians turned Inishbofin into a prison for a wide range of opponents, including many Catholic priests arrested around Ireland.
Notable person: Saint Colmán—pronounced Coal Mawn—was a native of the west of Ireland but like many another west of Ireland man, that didn't stop him making his mark further afield. He was Bishop of Lindisfarne, or the Holy Island in Northumberland in the north-east of England, in the 660s. He is believed to have founded the monastery on Inishbofin in or around 670. In an interesting little microcosm of the Irish personality, the historian Gerard Nolan wrote in Mayo: History and Society about a rift that developed on Inishbofin between the Irish and the English, "because in summer the Irish went off to wander on their own around places they knew instead of assisting at harvest, and then, as winter approached, came back and wanted to share whatever the English monks had gathered." Typical English planning for the future! Typical Irish, living in the moment!
Inisheer
In his 2022 RTE television series, Epic West, the Irish comedian and broadcaster Tommy Tiernan talked fondly about Inisheer. He described the Aran Islands as "like three sisters. Inishmore is the big sister, carrying a bit of weight, she runs a bed and breakfast. Inishmaan is the strange sister, the odd one, looking at you sideways, you're never entirely comfortable in her presence. Inisheer is the slightly mad younger sister, a great spark in her eye."
Population: 297
Notable landmark: Built in the 14th century within the site of a ringfort which dates a further 2000 years or so further back, Caisleán Uí Bhriain—or O' Brien's Castle—offers phenomenal views of the rest of Inisheer as well as the Cliffs of Moher in County Clare, Connemara's 12 Bens mountain range and the mountains of Kerry further south. The O'Briens were a powerful medieval clan from Clare, and their castle fortress would have helped them control shipping and trade routes into Galway.
Notable persons: The Inisheer Rocket Crew were a group of men trained in maritime rescue. In 1960, when a severe storm drove the Plassey, a 585-ton cargo ship of the Irish Merchant Service, onto the rocks just off Inisheer, the Rocket Crew rescued its entire crew of 11 using a breeches buoy. Making the episode even more daring, the breeches buoy—a rope-based sea rescue system—had been in existence for about 60 years but had never before been called into active use. The Rocket Crew, who placed their own lives at considerable risk during the daring rescue, consisted of 15 people. The historic event is captured in an art display at Dublin's National Maritime Museum. You can read the full story here. 


Inishmaan
Anglicized from "Inis Meain"—not so creatively, "Middle Island"—Inishmaan  is the second of the Aran Islands and also a popular destination for tourists and artists alike. It was the setting for one of the most popular plays of the past half century, The Cripple of Inishmaan, written by subsequent Oscar-nominated director and screenwriter Martin McDonagh.
Population: 160
Notable landmark: Teach Synge is a 300-year-old cottage which now contains a museum dedicated to the life and work of John Millington Synge. Synge, who died in 1909 at the age of just 37, is regarded as one of Ireland's greatest ever playwrights. Perhaps most famous for "The Playboy of the Western World", which prompted riots after its premier at the Abbey Theatre in 1907, his Inishmaan-set play "Riders to the Sea" (1904) has been praised as the finest one-act tragedy ever written. Teach Synge has been restored as closely as possible to the way it was when Synge visited the Mac Donagh family, who owned the house at the turn of the 20th century.
Inishmore
Inishmore is the largest of the three Aran Islands situated in the Atlantic Ocean off the coast of counties Galway and Clare. The name Inishmore is an anglicised version of Inis Mór, meaning "Big Island", and the island is also known officially as Árainn.
Population: 762
Notable landmark: Inishmore's most iconic landmark is the ancient fortress of Dun Aonghasa, a clifftop fort which dates back to prehistoric times. As well as offering the potential for an unmatched spiritual experience, Dun Aonghasa also offers unequalled views of the Atlantic Ocean, especially at sunset—looking west over the sea, the next landfall is Newfoundland and Labrador in Canada two thousand miles away. 

Notable person: Máirtín Ó Direáin, one of the most important of all Irish language poets, was born on Inishmore in 1910. Speaking only Connacht Irish until he was on the verge of adulthood, he later moved to Dublin and worked for the Irish civil service for more than 40 years. The author of 12 collections of poetry during his lifetime, he also wrote a book of autobiographical essays, Feamainn Bhealtaine—rough translation: "May Seaweed"—many of which drew on the experiences of his youth on Inishmore.
Inishturk
A small island off the coast of County Mayo, Inishturk has become a haven for nature enthusiasts, especially "birders" who can spot a variety of puffins, terns and rarer species, as well as hikers, anglers and kayakers.
Population: 58
Notable landmark: Inishturk is well known for majestic clifftop views, and there are none better than the vantage point where its iconic sea stacks (Buachaill Mor and Buachaill Beag, in English "Big Boy" and "Small Boy"). 
Ireland's Eye
A short boat ride from Howth in the north of Dublin, Ireland's Eye is a popular destination for summer day-trippers. It is mostly unspoilt, the only signs of human interference coming in the form of Church ruins and a 19th century—you guessed it!—Martello Tower.
Population: 0
Notable person: While there are no residents on the island, and it's a long time since anyone did live there, the name of Sarah Maria Kirwan will always be associated with Ireland's Eye. The wife of the famous 19th century artists William Burke Kirwan, Maria and her husband were brought to the island for a day-trip in September 1852. While William went off to do a spot of painting—his story—Maria sunbathed at one of the island's sandy beaches but was missing when boatmen came to collect the couple to bring them back to the mainland. Her body was soon found on the rocks and, after it emerged that William had been living a "double life" having raised a family of eight with another woman, and after exhumation and autopsy uncovered signs of foul play, he was arrested for his wife's murder. Found guilty and sentenced to death in one of the trials of the century, he escaped hanging after several high-powered men intervened on his behalf. Burke Kirwan instead served 27 years of penal servitude.

This island is also the namesake of IrelandsEye Knitwear, handknit artisanal quality wool sweaters which you can shop at this link.


Lambay Island
Like Ireland's Eye, Lambay is a small island off the coast of County Dublin. Its prime distinction is that it's private-owned, having been bought more than a century ago by the Baring family—the same family of Barings Bank, which collapsed in the Nick Leeson "Rogue Trader" affair in the 1990s. The island is home to Alexander Baring, the current Baron Revelstoke, and a variety of rare and endangered species, including red deer and one of Europe's only colonies of wallabies.
Population: 7
Notable landmark: Lambay Castle, the family seat of the Revelstoke branch of the Baring family, originated as a fort in the late 16th century but was later transformed by the famous architect Sir Edward Lutyens. Lutyens, also notable as the planner of New Delhi, enhanced Lambay into a romantic castle for Cecil Baring, who bought the island for £5,250 in 1904—a steal at around £800,000 in present day cash. His wife was Maude Louise Lorillard, daughter of tobacco millionaire Pierre Lorillard, who in 1881 became the first American to own a winner of the Epsom Derby. These days, the castle is home to Lambay Whiskey Distillery, just the Baring family's latest venture in the business world. Lambay's Castle Prestige Edition, a 20-year-old single malt, will set you back around €500.


Rathlin Island
Located off the coast of County Antrim, Rathlin Island is a nature lover's paradise. Visitors can spot a variety of wildlife, including seals, dolphins, and puffins, or take a walk to the island's famous lighthouse for panoramic views of the coastline.
Population: 150
Notable landmark: Open to the public from April to September each year, Rathlin's West Lighthouse is one of twelve lighthouses which make up a new cross-border tourist initiative called the Great Lighthouses of Ireland. Ireland's only "upside down" lighthouse—the beam emanates from the bottom of the structure rather than the top—the West Lighthouse has been fully automated since 1983. 
Notable person: Robert the Bruce, the notorious Scottish king who might be more famous to modern audiences for his part as a supporter then antagonist of William Wallace in Braveheart, is reputed to have hid himself in a cave on Rathlin while retreating from a battle with English forces in the early 1300s. Many an Irish or Scottish child has been taught the lesson of resilience that the fables say Robert learned in that cave: watching a spider try to spin its web again and again and again, he realised that he could never give up in his fight to gain Scottish independence from the English. (Seven hundred years on, some Scots are still trying to win that particular battle.)
Sherkin Island
Located off the coast of County Cork, Sherkin Island or Inisherkin is a popular destination for outdoor enthusiasts. The home for 111 people officially at the last Census count, more than 1000 people once lived there before the effects of the Great Famine in the 1840s decimated the island's population, which dropped to as low as 70 in the Census of 1981. 
Population: 111
Notable landmark: Founded in or around 1450, the Franciscan friary on Sherkin Island contains a nave and chancel church separated by an inserted tower, with a cloister and a number of dwelling buildings and outhouses situated to the north. Known to residents simply as The Abbey, the friary was attacked and burnt in 1537, captured by the crew of Oliver Cromwell—him again—in 1650 before eventually ending up in the hands of the Office of Public Works. It is now administered by the National Monuments Service.
Skellig Michael
Almost last on this list but certainly not least, we have Skellig Michael, also known by the Irish Sceilg Mhichíl—pronounced Skellig Vih-Heel—or simply the Great Skellig. We have seen some truly unique locations around Ireland, but it could be argued that none of Ireland's islands have a quality quite like Sceilg Mhichíl. A remote, inhospitable, some would say virtually uninhabitable rock off the coast of Kerry in the south-west, Sceilg Mhichíl became the site of a monastery sometime in the first millennium after Christ. Nobody who has ever seen it can forget it, even if that sight came in a car journey on the roads of Kerry 10 or 20 miles away. Rising pyramid-shaped from the Atlantic Ocean, Sceilg Mhichíl is a UNESCO World Heritage site and became even more famous in the popular culture when it was a featured location in the Star Wars movies The Force Awakens and The Last Jedi.
Population: 0
Notable landmark: The beehive huts on Skellig Michael are some of the best preserved examples of a style of structure built more than 1000 years ago and common to the south-west of Ireland. The huts are reputed to have been the permanent home to 10-12 monks during the Dark Ages and early medieval times. The monastery on the island, which can be reached only by a daring boat crossing and hundreds of stone steps, is believed to have been inhabited for up to 600 years until the 13th century.
Tory Island
If Achill off the west is the largest of Ireland's islands, and Dursey off the south its most sparsely populated, then Tory off the north coast of Donegal has an accolade all of its own: the most remote of Ireland's populated islands. Home to 119 people at the last Census count—although that number was down 25 on the previous Census, and down from around 300 in the 1930s—Tory is situated almost eight miles off the coast and accessible only by ferry connections with the mainland. 
Population: 119
Notable landmark: One of the first sights seen by ferry visitors to Tory is the Tau Cross, a rare version of the Christian crucifix which overlooks the Tory docking station. A t-shaped cross, the Tau Cross on Tory is one of just two in all of Ireland—the other is situated in County Clare—and there is some discussion about whether it may even pre-date Christianity itself: the t-shaped cross had been used as a totemic symbol by Egyptians in the centuries before the common era, and it is not known for sure when and how Tory's Tau Cross made it to the island. 
Notable person: St Colmcille—along with St Patrick and St Brigid one of the three great Irish patron saints—is said to have founded a monastery on Tory Island in the 6th century. Also known as Columba, he is reputed to have spent his childhood in Donegal before later founding one of the most important abbeys in western Europe on the Scottish island of Iona. Not one to rest on his laurels, he returned to Ireland and founded a series of monasteries in the counties of Derry in the North, Meath and Dublin in the East and Offaly in the Midlands.
****
There you have it, folks! Twenty of Ireland's most remarkable islands, each with its own unique charm and history. 
Whether you're looking for adventure, relaxation, or just a glimpse into Ireland's phenomenally rich and diverse cultural heritage over thousands of years, you will understand by now that Ireland is not the only island in these parts. Deep in the countless crevices around its 2000-mile coastline, Ireland shelters hundreds of unique and fascinating smaller islands, all with something new and amazing to offer.
If you get the chance, go. We guarantee you won't regret it.