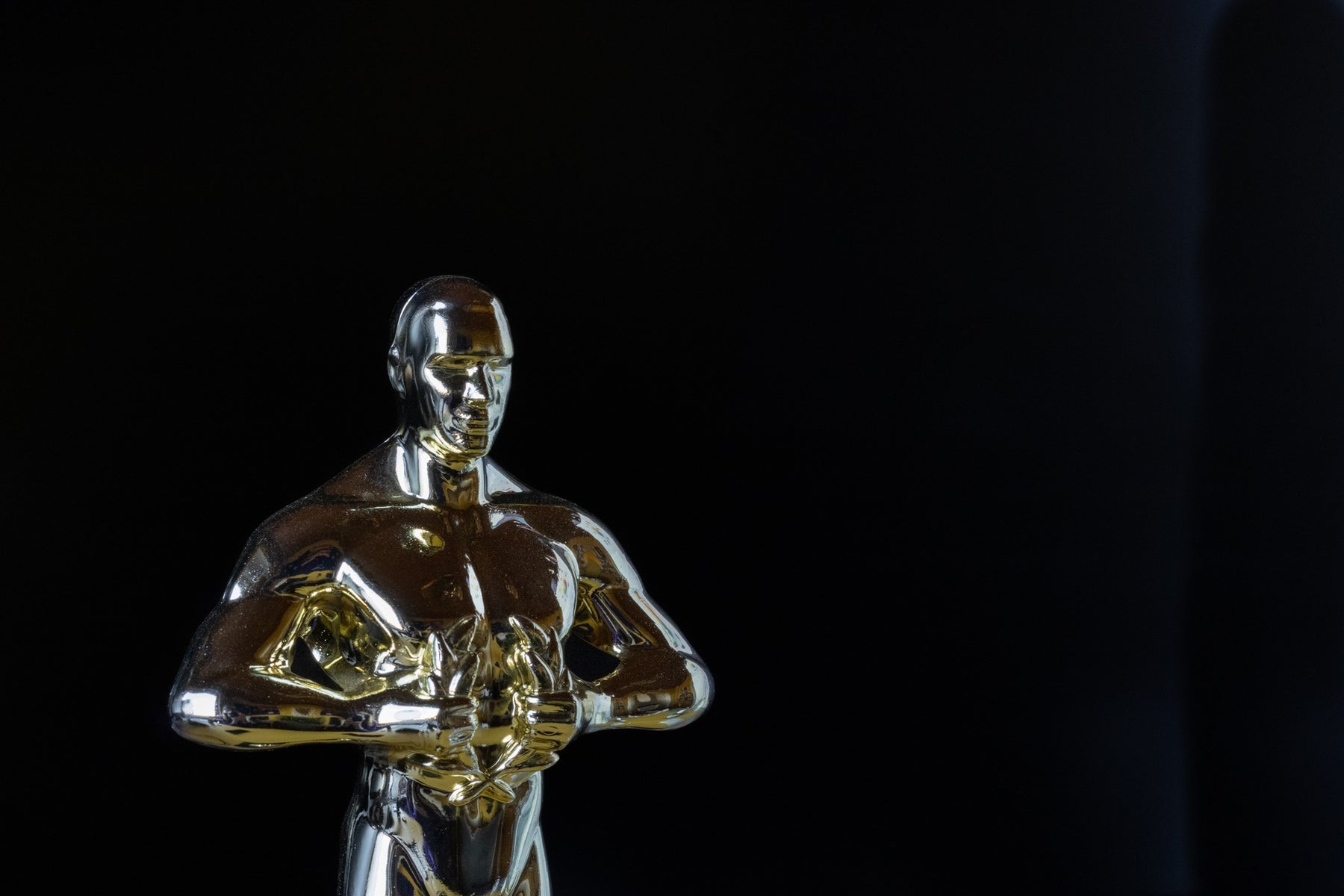 Emulating Greta Garbo, Dodging Hollywood's Limelight, and Golf Practice Accidents: A Potted History of Ireland at the Oscars
For people around the world with more than a passing interest in the movies, there is an annual ritual each spring: the early Monday morning drivetime news bulletins that bring news from the Academy Awards overnight in Los Angeles.

Last year, all of the news headlines focused on "The Slap", when the actor Will Smith took issue with some of the comedy from the host Chris Rock, and walked up on stage in front of the watching millions to let him know what's what.

Whether anything so sensational—or as appealing to all the celebrity gossip columnists and phone-in shows—will happen in 2023, who knows? Whatever happens, there are high hopes that Irish eyes might be smiling, with 14 Irish film professionals—including writers, actors, directors, editors and visual effects specialists—as well as the thousands who worked on their films, keeping fingers and toes crossed to as the envelopes reveal the winners of the world's most famous awards.
The Irishmen and Irishwomen Hoping 2023 Will Be Their Year
There is no real debate about the big Irish movie of the past year, and maybe the big Irish movie of the decade.
The Banshees of Inisherin, starring Colin Farrell, Brendan Gleeson, Kerry Condon and Barry Keoghan, has been nominated in eight different categories, and in six of those there is an Irish person awaiting the nod on awards night.
Writer-director Martin McDonagh, born to an Irish family in London, is nominated in two categories, for Best Director and Best Original Screenplay. Banshees is a move to the big screen for the type of story, characters and atmosphere that McDonagh has been perfecting for more than two decades on the stage.
Five earlier McDonagh plays were all set in the west of Ireland: The Beauty Queen of Leenane, A Skull in Connemara and The Lonesome West became known as the "Leenane Trilogy" were set in Connemara, the beautiful and wild region in western County Galway, and the action of The Cripple of Inishmaan and The Lieutenant of Inishmore took place on the Aran Islands off Ireland's Atlantic coast. Originally, it is said, written for the theater, The Banshees of Inisherin has evolved over about two decades to become one of the cinema events of the year, and one that has had audiences all over the world flocking to see it, just as audiences back home in Ireland have been divided by the depiction of the rural Ireland of 100 years ago. 
McDonagh will be hoping for his first feature film Academy Award at the third time of asking—he was also nominated for In Bruges in 2008 and Three Billboards Outside Ebbing, Missouri in 2017—but he does already have one Oscar in his cupboard, for the short film Six Shooter in 2005. 
The other Banshees Oscar nominees include all four of its major actors: Colin Farrell for Best Actor, and Kerry Condon, Brendan Gleeson and Barry Keoghan in supporting roles. If the bookmakers are a reliable yardstick, McDonagh is the hot favorite to be celebrating in the screenplay category and Condon has a strong chance as Supporting Actress, but all the film's other nominees are up against it.
Notable for us here at RealIrish.com, there is a connection between The Banshees of Inisherin and one of our proud suppliers. Cushendale, the quality woollen textile company based in County Kilkenny, where the Cushen family have been crafting exceptional textiles for more than 200 years, described their pride—and pleasant surprise!—when they realised that not only would their yarns feature in the movie, but that they were to be used for one of the most central pieces of wardrobe, the wine knit collared jumper worn by the main character Pádraic Súilleabháin, played by Colin Farrell.
You can find our selection of beautiful Cushendale brushed mohair Irish throw blankets over here.
Photo by Cushendale
Irish interest on Sunday, March 12th goes way beyond Banshees, however. Farrell is joined in the Best Actor shortlist by Paul Mescal, the young Kildare man who shot to fame during the months of 2020's Covid-19 lockdowns when it seemed like all of Britain and Ireland—and plenty of people around the world too—were using their extra free time at home by lapping up the series Normal People, based on Sally Rooney's hit novel. 
That role has been a stepping stone for Mescal, whose performance as a young man struggling with life's challenges, including fatherhood and mental ill health, in Aftersun has been praised by filmgoers and film critics alike as one of the most affecting film performances in one of the most moving films in many years.
The Quiet Girl, or An Cailín Ciúin to give it its original title, is the first ever Irish language film to be nominated for an Oscar. It looks likely that all involved will have to content themselves with the recognition that comes with the nomination, as the Best International Feature Film award seems to be expected by almost everyone to go to the highly-praised German language film All Quiet on the Western Front.
The most compelling story from an Irish perspective on awards night might well be that of An Irish Goodbye, which is nominated in the Best Live Action Short category. This category has been a happy hunting ground for Irish filmmakers, with McDonagh in 2005, the father-daughter double-act of Terry and Oorlagh George (2011) and Benjamin Cleary (2015) all winning for Six Shooter, The Shore and Stutterer respectively. An Irish Goodbye is a black comedy set on a farm in rural Northern Ireland, and the two estranged brothers who must try to resolve their differences after the unexpected death of their mother. 
Directors Ross White and Tom Berkeley were awarded the Bafta for the movie by the British Academy recently. One of the most noteworthy things about their film is that one of its actors is James Martin, who has Down syndrome. (In an interesting piece of symmetry, Zack Gottsagen became the first Oscar presenter with Down syndrome when he presented the award to the winners of the Live Action Short award in 2020, and James Martin, who stars as Lorcan in the film, will be hoping to be celebrating with the film-makers in Los Angeles as he did in London.)
To wrap up the Irish interest in an unprecedentedly "green" Oscars ceremony this year, Dubliner Richard Baneham is in the running for his second Best Visual Effects for Avatar: The Way of Water, more than a decade after his first for the original Avatar, and Jonathan Redmond, who has worked with the legendary director Baz Luhrmann for more than 20 years across five movies—starting with the classic musical Moulin Rouge—is nominated in the Editing category for his work on Luhrmann's Elvis. 
The Irishman With Three Oscars and No Love of the Limelight
He might have been born in England, but Daniel Day-Lewis has long been celebrated in the old sod as one of Ireland's own.
He fell in love with Ireland when he toured around it regularly as a child, accompanying his father, the Irish-born British Poet Laureate Cecil Day-Lewis. He has long lived in Ireland—in the relative seclusion of rural County Wicklow, almost as far as one can get from Hollywood Boulevard— and he formally claimed Irish citizenship in 1993.
By that point Day-Lewis had already been anointed as at least an honorary Irishman anyway, after an iconic portrayal of an iconic Irishman, Christy Brown, in one of the Irish films of the century, the Jim Sheridan-directed My Left Foot.
Shortly after finalizing citizenship, Day-Lewis was playing another notable Irishman, teaming up with Sheridan again for In The Name of the Father. He played Gerry Conlon in a widely acclaimed story of the so-called "Guildford Four", four Irishmen men who had been falsely accused of an IRA terrorist bombing in England and wrongly imprisoned for 15 years in one of the great miscarriages of justice of the century. 
Day-Lewis was Oscar-nominated for that film (losing out to Tom Hanks) but after those two portrayals of real-life Irishmen, he would demonstrate his vast diversity and power in the coming years, by turns playing a 19th century gangster in Gangs of New York, an intense turn-of-the-century oil drilling speculator in There Will Be Blood, the Civil War President in Lincoln and a high-fashion London dressmaker in Phantom Thread. All four performances led to Oscar nominations, and two more victories (for There Will Be Blood and Lincoln). 
However, Phantom Thread is the only film Day-Lewis has made in the past decade, and as of this writing in the spring of 2023 he does not appear to have any new work in production. Still just 65, he may well return to the big screen in the future, but we might not get much advance notice of that as Day-Lewis studiously avoids all publicity. He once said, 
"Actors should never give interviews. Once you know what colour socks they wear, you'll remember it next time you see them performing, and it will get in the way. It is not in anyone's interest."
He might have a long-established preference for solitude—maybe "normality" is a good word too—but despite that, and despite his steadfast commitment to avoiding the typical excesses of a Hollywood star's career, Day-Lewis remains one of the world's most recognizable faces and an enduring legend of film.
The Irishman Who Broke His Oscar With a Golf Club
Barry Fitzgerald was an Irish actor who became legendary for his work in different formats on opposite sides of the Atlantic Ocean. 
Born William Joseph Shields in Dublin in 1888, he assumed the name Barry Fitzgerald not, as one might expect, for the possible public appeal of having a "stage name", but instead for an altogether more mundane reason: he was doing his best to avoid getting in trouble with his bosses! 
As William Shields, he was employed by the civil service, first in the Board of Trade in Dublin and later in the city's unemployment service. While his workday was helping people without a job, he himself had two, leaving William Shields behind at 5 o'clock and taking on the role of Barry Fitzgerald at the Abbey Theatre in the evenings! 
Employed part-time by the Abbey while staying in full-time employment, he would star in several of the best known plays of the time, including Sean O'Casey's The Plough and the Stars in 1926, which brought about the famous Abbey riots and long months of protest. Gunmen even turned up at his mother's house with the intent of kidnapping him and preventing the play from continuing, but—luckily for the actor—he was elsewhere at the time.
In 1929, already 41 years old and finally unable to juggle his on-stage success with his day-to-day commitments—or perhaps secure enough financially to take the plunge—Fitzgerald decided to become a full-time actor.
His breaks in the film business owed a lot to his theater work: in 1930 a young Alfred Hitchcock was making a film version of O'Casey's Juno and the Paycock and he signed up Fitzgerald for a part, and six years later he was one of four members of the Abbey to go to Hollywood for the film version of The Plough and the Stars, directed by a young John Ford.
Those roles led to more opportunities in both the Hollywood film industry and stage plays on Broadway. In 1944, at the age of 56, he finally found stardom in a leading role as Father Fitzgibbon opposite Bing Crosby's Father O'Malley in the smash hit Going My Way, a film which led to the unique occurrence of receiving nominations for both Best Actor and Best Supporting Actor, eventually becoming the first Irish actor to win an Oscar by taking the award in the supporting role category. That had never happened before, and the Academy soon changed its rules to make it impossible for it to happen again. 
Fitzgerald had helped to reshape the Oscar rules, and soon he would (we can assume accidentally!) reshape his own Oscar too when he—so the story goes—decapitated the famous statuette with a golf club. Among the explanations were that wartime production had made precious metals scarce, and that Fitzgerald's award was plaster-cast, thus making it a little less liable to break. (Although quite why Barry was practicing his golf swing with his award is a question that might never be answered!)
After that success Fitzgerald's career continued to progress. He is perhaps best remembered now for his role alongside John Wayne and Irish actress Maureen O'Hara in John Ford's iconic 1952 blockbuster The Quiet Man.
Having become a legend on both sides of the Irish Sea, from the Abbey to Broadway to Hollywood, worked with some of the most iconic film and theater directors of all time, and achieved the distinction of having not one but two stars on the world-famous Hollywood Walk of Fame, Fitzgerald died in Dublin at the age of 72 in 1961. His Oscar mishap apart, Fitzgerald's golf links are part of his legacy. He was a member of Sutton Golf Club in north Dublin, and the club still holds the Barry Fitzgerald Cup annually.
The Irishman With the Most Oscar Nominations Without a Win
Peter O'Toole, the late great actor, does not make many lists of specifically
Irish
film achievements. (The Wikipedia page outlining the Academy Award accolades of Irish film writers, directors, actors and other film industry pros of the past century runs to a dozen printed pages, but O'Toole is not listed there.)
However, such has been the way of Irish history over several centuries that Irish citizenship—and beyond that, the feeling of being Irish—has been a complicated thing since long before the birth of the film industry. 
O'Toole was born to a Scottish mother but his father was Irish through and through. Nicknamed "Spats", Patrick Joseph O'Toole sounds a lot like one of those local "characters" who people every Irish town and city. Immigrated to Britain in the early 1990s, Spats led what must have been a colorful life, earning a wage variously as a metal worker, a footballer and a racecourse bookmaker.
The website FilmReference.com lists O'Toole as Irish and his birthplace—in error, it's now believed—as Connemara, and O'Toole himself admitted during his lifetime that he was unsure when exactly, and where exactly, he was born, as he claimed to hold birth certs from both English and Irish authorities. (Further investigation revealed that he is most likely to have been born in Leeds, England in August 1932.)
O'Toole's Irish connections continued during both the early days and later days of a phenomenally successful career. First, legend has it that he tried to study at the drama school attached to the Abbey Theatre in the early 1950s but was rejected because he was unable to speak the Irish language. Much later, in 1980 O'Toole, by now well established in Hollywood, played the part of the Irish labor hero James Larkin in a high-profile TV miniseries adaptation of the novel Strumpet City, about Dublin in the early decades of the 20th century. That show was like a who's who of late 20th century Irish film and theater talent, with O'Toole joined by the likes of Cyril Cusack, Donal McCann and David Kelly.
O'Toole has the distinction of being nominated for an Oscar the most times without actually winning one. First nominated for the lead role in David Lean's epic Lawrence of Arabia in 1962, he was shortlisted for the eighth and final time for Roger Michell's Venus in 2006. Remarkably, that final nomination came a full 24 years after his previous one. On Oscars night, dreams of a poignant award at the end of almost half a century of film acting were dashed when Forest Whitaker received the award for The Last King of Scotland.
Four years before that final nomination O'Toole had been awarded an Oscar for lifetime achievement. In a testament to his drive, energy and ambition, O'Toole responded that he would refuse it as he was "still in the game" and wanted the chance to win an award for a specific performance rather than a career-long body of work. He relented, however, and received the award from Meryl Streep on the night.
O'Toole passed away at the age of 81 in 2013, and his eight nominations without receiving an award (at least not for a specific performance) has yet to be surpassed, although Glenn Close equaled that record when nominated for Hillbilly Elegy in 2020.
The Irishwoman Who Eclipsed Greta Garbo By the Age of 25
When the film version of the acclaimed Ian McEwan novel Atonement won plaudits in 2007, among the most lauded was the young actress who spent most of her childhood in rural County Carlow and in Howth in north County Dublin. Saoirse Ronan was just 13 at the time she was nominated in the Best Supporting Actress category for her performance as the child Briony Tallis, who sets in motion a train of tragic events with one poorly judged lie. 
Even by then Ronan was quite a seasoned actress, starring in popular TV shows since the early 2000s. She missed out on the role of Luna Lovegood in the Harry Potter film series, but if she was disappointed by that she didn't let it interrupt her ascent up the ranks of the film business. Parts in acclaimed films like Hanna and The Grand Budapest Hotel followed before her breakthrough as a leading actress in the 2015 movie Brooklyn, the adaptation of the Colm Tóibín novel of the same name. That brought her a second Oscar nomination, and a first in the Best Actress category. She missed out on that occasion, and also fell short in the same category in 2017 for Lady Bird and 2019 for Little Women.
By the age of 25, Ronan had been nominated for an Academy Award on four separate occasions without winning, including three in the Best Actress category—meaning she had equaled the great Greta Garbo, whose own Hollywood career had brought her three Best Actress nominations in the 1930s without a win. 
Still to reach 30 years of age and with plenty more opportunities to come, don't be surprised if Saoirse Ronan gets her hands on an Oscar sooner rather than later.
That's it for our "Ireland at the Oscars" rundown. There is lots more that could be told, from the writer who has the unique distinction of winning both an Oscar and the Nobel Prize for Literature, to the working class Dublin girl who got into acting by happy accident and would go on to become the first Irish actress to receive an Academy Award, to the woman who left Ireland in her youth to become one of Hollywood's biggest stars and win the nickname "The Queen of Technicolor". We will try to update this article with these and other stories in the future. Stay tuned!