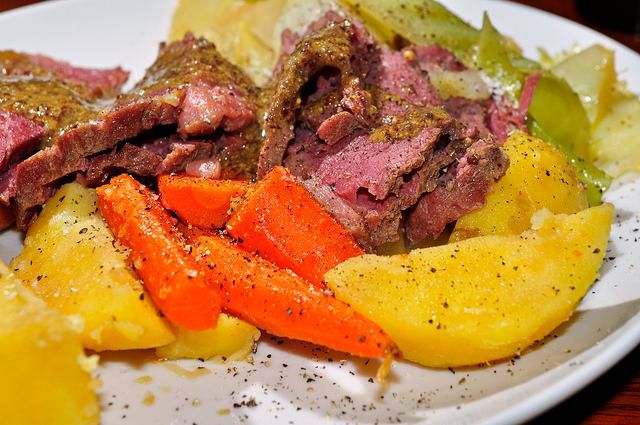 A few ways to enjoy St. Patrick's Day at home in 2021
As we head towards a second St. Patrick's Day without the usual celebrations to look forward to, such as parades and crowded pubs, we decided to share some fun, safe ways to celebrate 'being Irish' at home. So let's get started.
1. 'The Full Irish'
Some of you may know what this is, but for those who don't, it's a cooked breakfast. Traditionally, the most common ingredients in Ireland are bacon rashers, pork sausages, eggs (poached, fried or scrambled), white pudding, black pudding, toast and fried tomato. Sauteed mushrooms are also sometimes included, as well as baked beans, and soda bread. Fried potato farls, boxty or toast is sometimes served as an alternative to brown soda bread, depending on where you are in Ireland. This will all be enjoyed with copious amounts of tea, most likely Barry's Tea, a strong black tea. None of this is heart healthy and when all is said and done you've consumed about 1500 calories. That said, there'll be no need for any lunch and a light dinner should be on the menu in the evening. Like all decadent foods, choose this breakfast infrequently but enjoy the deliciousness.
We recommend doing your shopping for all your "full Irish" ingredients at Food Ireland located here in the USA. They have a great selection of Irish food imports and it's where we do our shopping for the items we carry in our shop (but not online).
If you want to get 'An Irish Breakfast in a Box for just $20' delivered right to your door,  (rashers, sausages, black and white pudding and Irish soda bread) you can also shop with our friend Maureen Murphy of Tralee Irish Imports in Milaukee Wisconsin. Maureen has a great selection of Irish foods and can ship them right to you.
Send me 'An Irish Breakfast in a Box'
2. "Cúpla Focal"
(A few words)
Now it's time to learn a few words of Irish, a beautiful, ancient Gaelic language that is still spoken in the Gaeltacht (Irish speaking) areas of Ireland. But perhaps you don't even realize that already know some Irish? Yes you do! Here's a link to a List of English words of Irish origin, which includes "whiskey" from the Irish "uisce beatha" meaning "water of life". https://en.wikipedia.org/wiki/List_of_English_words_of_Irish_origin
The most common greeting you will hear is "Dia duit! Conas atá tú?" (Hello! How are you?) to which you might reply," Tá mé go maith" (I'm very well). A shorter and easier phrase you might try is "Sláinte" which literally means "health" but is used mostly as a toast when drinking your favorite beverage, similar to "cheers".
Here's a short video that'll help you learn to say a few words today:
https://www.youtube.com/watch?v=ViGAb66Nsdo
If you want to dive a little deeper in the Irish, then we'd recommend Irish Language Learners who will get you going in no time at all. They are on Facebook with over 53,000 followers, and have a website too. https://irishlanguagelearners.com/
3. Inis - The Energy of the Sea
This is one of our most popular items and is definitely a customer favorite. Inis Cologne Spray is Ireland's best selling fragrance and is made in County Wicklow, also known as 'the Garden of Ireland'. Inis is the Irish word for "island' and is an ocean-inspired fragrance, sparkling, fresh and clean. It will remind you of your time in Ireland or might inspire you to take that trip to the Emerald Isle and cross it off your bucket list. (Check out our 2022 tour dates further down the page)
Check out our full range of Inis products here: Inis - The Energy of the Sea
4. Take a break with a good Irish book! 
With Ireland having saved western civilization (yes, it really did). If you need convincing, have a read of this best-selling book aptly titled 'How The Irish Saved Civilization' by Thomas Cahill, and available here at Literati Bookstore in our home town of Ann Arbor or at your favorite local bookseller. Literati is online (and a stone's throw from our retail store) and can ship it to you. With so many great Irish Authors to choose form (James Joyce, Bram Stoker (yes!), George Bernard Shaw, Jonathan Swift, Oscar Wilde, Maeve Binchy, Roddy Doyle, C.S. Lewis, Frank McCourt, Edna O'Brien and many, many more) it's hard to pick a favorite, but Irish Central has done a great job of compiling a list, check it out here: Irish Authors and Writers You Should Know. Enjoy!
5. Stay Warm & Cozy
While enjoying one of those great books you might like to wrap up in warm, wooly Irish throw. Heirloom quality, these throws are works of art that soothe the soul in addition to keeping you warm. We have a great selection to choose from in our store and on our website, here's a link: Irish Blankets & Throws 
6. Irish Wool Socks
Probably the most gifted item we sell in our shop and online, because who doesn't love soft, warm, richly colored socks? Our Irish Wool Socks are a very popular item all year round. We have Irish Jacob Sheep 100% Un-dyed Wool Socks, for those who look for natural fibers. We have Donegal Wool Socks, as well as Connemara Heather Wool Socks and of course Fair Isle Wool Socks. Socks are naturally unisex so it makes it all really easy for gift giving. So while you're at it, don't forget to pop on a pair of our Irish Wool Socks for yourself too. 
7. Celebrate Irish Culture
If you're looking to add some culture to your day check out the Irish Repertory Theater. New York City's Irish Repertory Theatre is the only year-round theater company in the U.S. devoted exclusively to bringing Irish and Irish-American theatrical works to the stage. But you can enjoy all this from the comfort and safety your own home. Now they have some great performances for you to enjoy including The Aran Islands and The Weir. 
8. Enjoy Some Irish Music
You can't enjoy St. Patrick's Day (or any day for that matter in our opinion) without some Irish music. But whew, where do you start with so much to choose from? We're huge fans of IrishTrad and Irish Folk music. Many of you will have heard of The Clancy Brothers and Tommy Makem, and of The Dubliners and these musicians have been a great influence on the musicians that have followed. Those earlier bands paved the way for the exceptional Planxty and The Bothy Band, two traditional groups that emerged in Dublin in the early 1970s, transforming Irish Folk Music and making it more popular than ever. Check out this No Disco documentary from March 2003 about Planxty. It's a veritable who's who of Irish Folk Music at the time.
Planxty - No Disco documentary
9. An Authentic Irish Cap or Hat
It's very important to us at Real Irish to support authentic Irish businesses and especially those that continue an age old craft with high standards of quality. Hanna Hats of Donegal and Jonathan Richard are the only two cap makers remaining in the country that make their caps in Ireland.  Real Irish is proud to carry both brands.
Family owned and run, Hanna Hats are a third generation cap maker and are located in County Donegal in the far northwest of Ireland and traditionally known as the tweed capital of the country. Hanna Hats have been making caps and hats since 1964.
Check out our Hanna Hats here: Hanna Hats Caps & Hats
The other brand that still is Irish-made is Jonathan Richard, who are actually Ireland's oldest cap maker having been in business making caps and hats since 1924. 
Check out our Jonathan Richard caps here: Jonathan Richard Caps
10. Guinness
This dark Irish stout has become an icon of Ireland and no trip to Ireland, for first timers anyway, seems complete without a trip to the Guinness Storehouse in Dublin. It's a destination many of our tour group members want to visit and cross off their bucket list. The Guinness Storehouse at St. James's Gate is Ireland's most visited (fee paying) tourist attraction. It's no surprise really, in 2019 the Guinness Storehouse welcomed 1.7 million visitors with 25% of those coming from the U.S. Ever notice when U.S. Presidents visit Ireland there's usually a photo of them with a pint of Guinness in their hand? 
Most of you may think that the Guinness you drink today in Irish Pubs and bars in Ireland and across the world is the same Guinness as it's always been, but that's not actually true. The biggest change came in 1959 when Guinness introduced nitrogen which both changed the texture and flavor to make it 'creamier' and 'smoother'. Guinness draught is the number one alcoholic drink on the island of Ireland.
Guinness has always used clever marketing campaigns to promote their stout and in the 1930s-40s artist John Gilroy popularized the brand with his artwork. Gilroy's distinctive style, more often than not featured animals such as a kangaroo, ostrich, seal, lion and perhaps most notably a toucan, has become almost as much a symbol of Guinness as the harp.
We have a great selection of Guinness apparel items online including, Guinness T-shirts. rugby jerseys, hockey jerseys and of course Guinness glassware and barware. Check out our selection here:
'New' design featuring the iconic Toucan artwork from the 1930's and 40's.
This Guinness Black Hockey Jersey which pays homage to the colors of a pint of Guinness (black with a creamy head) has been exclusively designed by Real Irish and is only available at through our business.
Guinness Hockey Jersey in green, featuring the Harp which has been Guinness' trademark logo since 1865. Did you know that when Ireland became independent from the U.K. and wanted to use the harp as a symbol for the new republic, they had to get the okay from Guinness? One provision was that they turn the harp in the opposite direction. And so it is!
11. Corned Beef - Is it really Irish? 
In America corned beef and cabbage are synonymous with the Irish and St. Patrick's Day, but if you were in Ireland, many people there wouldn't understand the association. What we know of corned beef really is an Irish-American invention and tradition. I've come across this great article in The Smithsonian Magazine. It's a great read and very informative, check it out here: Corned beef - Is it really Irish?
12. Sober St. Patrick's Day
There is sometimes an excess of celebrating and drinking associated with St. Patrick's Day and to counter that there are alternative ways to celebrate, alcohol free. One of those is Sober St. Patrick's Day. Focused on changing the perception and experience from an occasion for binge drinking and misuse of alcohol, it is a celebration of the richness of Irish culture and the legacy of St. Patrick. Sober St. Patrick's Day offers world-class entertainment, it's family friendly, and this year it is free to enjoy! Please check out the information here: Sober St. Patrick's Day.
13. Visit Ireland
OK this is NOT an "at home" activity but the "looking forward to" part is! Join us on a 2022 Tour to Ireland. We know the best way to experience Ireland is first hand, and you can do that by joining us on a Real Irish Travel tour. We organize a few small group tours to Ireland (Wales & Scotland) each year and our tours will resume in May 2022 starting with a tour to Ireland. If you'd like to check out our website please take a look at Real Irish Travel. Information will be posted and emailed out by April 2021 and you can sign up for a tour at that point. Make sure to sign up to our email list if you are not already on it. Here's the link: Join our mailing list.
In the meantime here's a few reviews from past tour participants and what they have to say:
A. My wife and I joined a group of friends on a tour of Ireland with Stuart of Real Irish Tours. I can honestly say that this was the best organized and most enjoyable tour that we have ever taken. Stuart had everything superbly organized and his knowledge of Irish geography and history made the experience quite special. His tours are small so that everyone on tour gets to know everyone else. I can also say that the accommodations and food on the trip were well above expectation. We really hope to take additional tours with Stuart as soon as this virus is behind us. We recommend Stuart and Real Irish Tours without hesitation.
B. Our Irish adventure began in a small coffee shop in Brighton Michigan when we met Stuart Marley and started discussions for a trip to Ireland. We had some ideas about things we and a group of friends wanted to see and do in the northern and western parts of Ireland. After listening to specific places we wanted to have included, Stuart started with one of his regular tours and customized it to 'fit' our group by augmenting it with many wonderful ideas including places and activities known only by someone who has grown up in Ireland.
Our group of 12 arrived in Dublin where we met Stuart, our planner and guide-in-chief, and Gary, our driver and commentator on everything Irish, from bicyclers in Spandex to the National Bird of Ireland - the thousands of construction cranes in frequent view. It took us only about an hour to recognize the knowledge and sense of humor that would accompany us for the nearly 2 weeks we were in Ireland.
During our visit, we were:
Exploring Dublin, including the Book of Kells at Trinity College

Engaged in the history of this unique nation

Gaining understanding of the conflict between the North and the South for hundreds of years

Exploring small places where you can't possibly go with a large group

Standing on the edge of the North Sea wondering if we could walk across the Giant's Causeway from Ireland to Scotland

Taking walking tours in numerous charming small and large cities

Meeting locals through Stuart and Gary who seemed to know everyone in Ireland,

Looking at the beautiful cliffs above the Atlantic Ocean,

Staying 3 nights in a 5 star resort near Donegal called Harvey's Point

Experiencing several stops in local restaurants and pubs

Having a nice balance and pace in our sightseeing and free time

And visiting the Aran Islands.
The entire tour was a wonderful joy and we hope to be able to join Real Irish, Stewart (sic), and Gary again some day.
C. We recently had one of the best travel experiences of our lives, on the East to West Ireland trip. Expectations met: sense of security and ease with a seasoned coach driver; all details taken care of by Stuart and Gary (tickets, meal reservations, luggage handling, thoughtful restroom stops, etc.) and carefully chosen sites to visit and learn about Irish history and culture. Expectations that were far far exceeded: the warmth and camaraderie quickly formed within a lovely group of people, created and encouraged by Stuart & Gary; the beautiful accommodations, usually within walking distance of many shops, pubs & restaurants; the reasonable daily expectations of activities rather than trying to see too much in a short time; the mix of castles, gardens, museums, urban areas, and incredible outdoor adventures - a great combination for indoor/outdoor experiences; the coach that allowed for a little elbow room and such pleasant drives; and just the right amount of free time for us to explore each city as we wished. We cannot recommend travel with Real Irish highly enough. It was magic.